---
Try These 4 Piers Near Sunset Beach for Amazing Fishing and Sunsets
Posted On Monday, September 11, 2023
---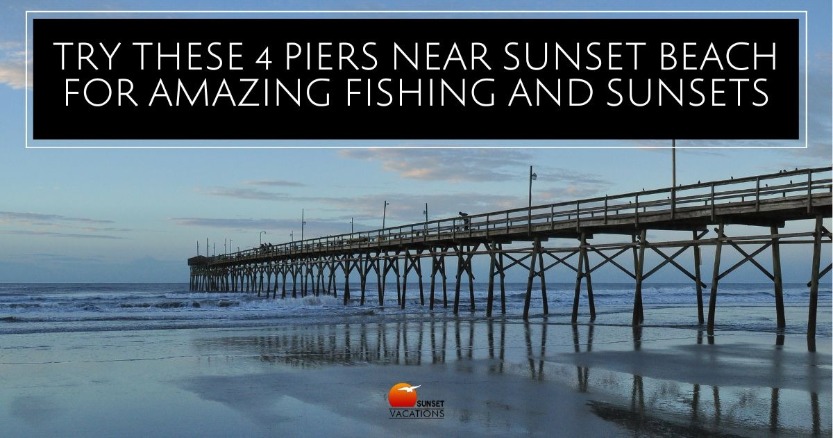 Hey there, fishing lovers and sightseers! If you're plotting a getaway to the magnificent Sunset Beach, NC, you're in for a reel treat. This coastal haven is a feast for the eyes and a paradise for fishing enthusiasts. And if you're wondering where to hang your hat during your trip, look no further! We have beautiful coastal properties we think you'll love! They offer a variety of snug and convenient lodgings that will make your fishing adventure unforgettable.
Sunset Beach Pier
Nestled right on Sunset Beach itself, the Sunset Beach Pier is a true dream for anglers. Stretching 900 feet into the Atlantic, this pier is the closest to the South Carolina state border. The pier is more than just a fishing spot; it's a full-fledged entertainment hub. You can enjoy billiards, listen to tunes on the jukebox, or grab a drink at the bar. And if you're a fan of scenic walks, the pier offers self-guided walking tours.
Sunset Beach Pier is a 900-foot pier that is a haven for king fishermen. The pier has a double sink at the cleaning table, a snack bar serving breakfast and hot sandwiches, and an air-conditioned pier house with a game room, restrooms, and ATM. They sell live bait and offer rod rentals. You can purchase three-day, five-day, and seasonal fishing passes, which include parking.
Things to Do
Fishing: Tackle shop, bait, and convenience store.
Sightseeing: Walking tour, photo opportunities, sightseeing, watching sunsets!
Snacking: The snack bar offers a variety of quick bites.
Shopping: Don't forget to pick up a souvenir from the gift shop.
Ocean Isle Beach Pier
Located about 10 miles from Sunset Beach, the Ocean Isle Beach Pier is another angler's paradise. The pier offers more than just fishing; it's a family-friendly venue with a cafe, arcade games, video games, a jukebox, and an ice cream shop with soft serve. You can also shop their convenience store for snacks, t-shirts, and other items or souvenirs you might be looking for.
If you forgot your gear, no worries! They offer rentals and everything you could need for a great day of fishing. Or, if you want to sightsee instead, feel free to grab a beer or some wine and stroll down the pier admiring the views! Restrooms are available.
Things to Do
Dining: Enjoy breakfast, lunch, and dinner options.
Entertainment at the OIB Pier Backyard: Often has live music!
Arcade and Store: Indoor arcade with AC and convenience store.
Fishing: Fishing, tackle, and beginner classes.
Cherry Grove Pier: A Serene Escape in North Myrtle Beach
Just a short drive away in South Carolina, Cherry Grove Pier is worth the trip. This pier is a must-visit known for its record catches and stunning views. Stretching 985 feet into the ocean, it's one of the longest piers in the Myrtle Beach area. The two-story observation deck offers breathtaking views, making it a perfect spot for capturing memories. Anglers can rent fishing equipment and purchase bait at the tackle shop. The pier has a family-friendly and quiet atmosphere, ideal for a relaxing day at the beach. Note that there is a fishing fee, which varies depending on the time and season.
Things to Do
Amenities: Two-story observation deck and tackle shop.
Fishing: Tackle shop, equipment rentals, daily/season passes, weigh station.
Family-Friendly: Offers sightseeing and walking the pier.
Gift Shop: Fishing gear, bait, apparel, jewelry, souvenirs, ice cream.
For Day Trips, Try Ocean Crest Pier
Ocean Crest Pier is another to check out in Oak Island, NC, perfect for a day trip. This pier is fully equipped with amenities. It has a restaurant and a tackle shop, making it convenient for travelers and anglers. Enjoy a day of fishing or hang out, grab a bite, and enjoy the views.
Things to Do
Fishing: Licenses available, and bait and tackle shop.
Restaurant: The Seahorse Eats & Drinks serves food, beer, and wine.
Gift Shop: Apparel, hats, bags, and souvenirs are available.
Entertainment: Live music is a regular thing here.
Whether you're an angler dreaming of that next big catch or a traveler yearning for the serene beauty of the North Carolina coast, the piers near Sunset Beach are a must-visit. Each pier has its unique charm and amenities, making them perfect spots for a day of fun and relaxation.
If you're looking for a place to stay near Sunset Beach, check out our vacation homes. We offer the comfort, convenience, and oceanfront views that make for an unforgettable vacation. Imagine waking up to the sound of waves, just steps away from the ocean, and ending your day with a stunning sunset. Book your holiday with Sunset Vacations now and experience the best that Sunset Beach offers!
Discover piers near Sunset Beach in North Carolina! From fishing to amenities, we cover everything you need to know for a perfect day out.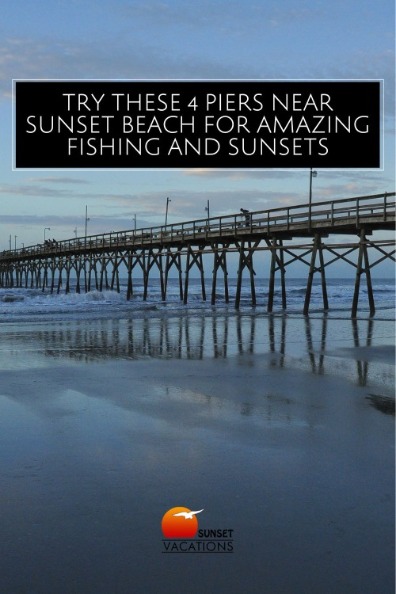 Save money on your fall vacation with these fantastic tips!
Vacation on Sunset Beach, NC: How to Save Money and Maximize Fun.
Comment on this post!