Making the Most of Your Vacation Rental Kitchen
One of the most valued vacation rental amenities is the kitchen. It's where friends and family gather, homemade meals made with fresh local ingredients are created, and quality time is spent making memories that last a lifetime. Having access to a kitchen during your time away also helps to make your vacation more budget-friendly and has the added bonus of helping you and your family stay healthy, even while you are on vacation.. Best of all, you get firsthand experience with the local flavors.
This is your moment to explore your potential of "culinary genius"! What do you need to know to make the most of your Sunset Beach vacation rental kitchen? Here are some tips that we hope you'll find helpful when it comes to planning your vacation and making most of the kitchen and what it has to offer.
Get To Know Your Sunset Beach Vacation Rental Kitchen
First things first. Get to know what your vacation rental kitchen has to offer. Familiarize yourself with the vacation rental agreement and be sure you know what to expect upon your arrival, so you can plan accordingly. If you have any questions, don't hesitate to ask the vacation rental staff.
Sunset Vacation rentals come with the appliances you'd expect in a normal, everyday kitchen. Each property is unique and reflects the individual owner's tastes, so feel free to ask about the specifics of your Sunset Beach vacation rental. We'll cover the details of what you'll want to pack for use in the kitchen later in this article.
Sunset Vacations works closely with its vacation rental owners to ensure the best experience possible for our guests. You are our priority and we'll do what we can to assist you during your stay with us.
Plan Ahead for Your Meals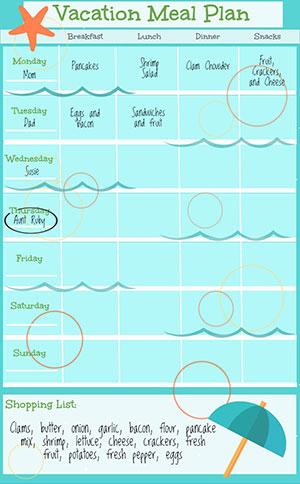 The next step in preparing for your Sunset Beach vacation is getting a head start on your meals by planning in advance. Whether you do it before you leave for your trip or upon your arrival, meal planning will help you save time overall. That way, you'll know what to buy when you visit our local markets and grocery stores. You don't want to waste your precious vacation time trying to figure out what's for dinner each night and wondering if you have the right ingredients. You also don't want to be wandering the unfamiliar grocery store aisles in a state of confusion, so go in with a plan.
A little advance planning goes a long way. A meal planner is especially helpful if you're vacationing with various family members who will be sharing the cooking duties. It can get confusing, so it's best to have a reference for everyone to use. No one wants to spend their night off frantically running out grocery shopping with Aunt Ruby because she forgot this was her night for dinner. Leave room for some flexibility, tweaking (like taking advantage of the fresh fish markets on the island) or sometimes an unexpected change of plans (like some of the great local restaurants), and you'll be just fine.
Feel free to use our downloadable, printable meal planner to help you get organized. It can be a valuable tool to help you prepare to make the most of your vacation rental kitchen, your time, and your money. Use it and share it with your family members and friends (and highlight Aunt Ruby's night).
Visit the Local Markets
Once you have an idea of what you need for your meals during your Sunset Beach vacation, you'll want to know where the best places are to find fresh local produce. We can help you with that.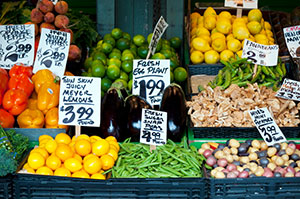 In addition to local and regional produce, you'll find other delectable items inside the market. There is a varied assortment of local honey, jams, jellies, preserves, fruit butters, molasses, syrups, Amish goods, dressings, pickles, relishes, sauces, ginger ale and bottled drinks, fruit ciders, cheeses, boiled peanuts, candy, grits, meats, cobblers, cookbooks and so much more. Here you'll find an abundance of honest-to-goodness-southern flavor all in one convenient location.
You're on the coast so naturally you want to find a good place to buy fresh, local seafood. Bill's Seafood of Sunset Beach on 310 Sunset Boulevard North offers you access to the freshest catches coastal Carolina has to offer including scallops, clams, snapper, crabs, and whatever else the boat brought in that day! Bill's Seafood is famous for their fresh shrimp, which they will steam and season for you for a small fee. You also may want to grab some of their homemade cocktail sauce to take home with you. It's a local favorite.
Groceries Ahead
Your vacation starts the
minute you walk in the door!
Groceries Ahead has been locally owned and operated and have been serving the SC coastal vacationers since 2003.
Your personal grocery order is shopped & stocked in your vacation destination prior to arrival.
Groceries Ahead picks the freshest fruits and veggies for your healthy vacation snacking. You choose all the products you want and we will deliver your order to wherever you are staying. Have all your supplies stocked before you arrive so you can settle straight into vacation mode.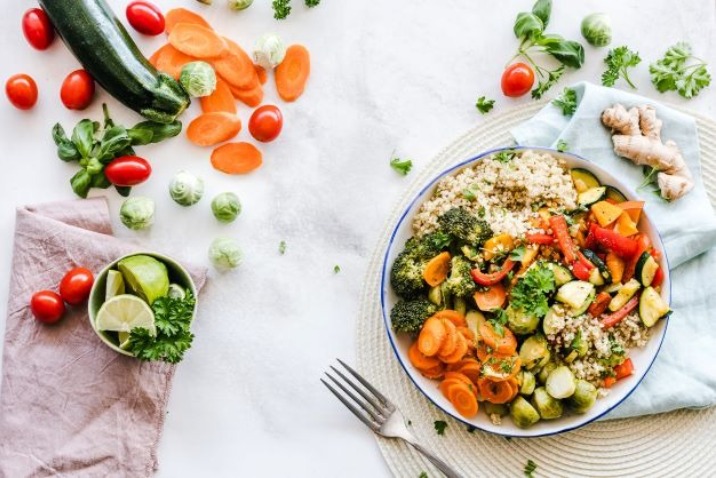 Check Out the Area Grocery Stores
Sunset Beach offers several options when it comes to grocery stores.
Food Lion at 1775 Clippers Way in Sunset Beach is a 5-minute drive and just under three miles from the beach. It's open 24 hours, so no matter when you arrive for your Sunset Beach vacation, you can shop at your convenience. Food Lion is a chain grocery store that offers meats, seafood and grocery items. It also has a deli and bakery. Wine and beer are also sold in the store.
Lowes Foods is located near the entrance of Ocean Isle Beach on 6278 Beach Drive SW. It's about a 10-minute drive from Sunset Beach. Lowes Foods is a more upscale-style grocery store offering a full service deli featuring Boars Head product, fresh sushi, an extensive wine selection, ready-made meals, salad bar, seafood, meats and grocery items. Lowes Foods also offers online grocery shopping.
Publix is new to our area and is located at 1560 Market Place Blvd Ocean Isle Beach (910) 393-2059. It is a new up-scale grocery store that offers a large variety of services which includes money order sales, check cashing, fresh bakery items, sushi, soup and salad bar, many wine and beer selections, curb side pick-up are just to name a few.   
What To Pack & Bring With You
Once you are familiar with your Sunset Beach vacation rental kitchen and what it has to offer, you'll want to start planning for what to bring with you or shop for during your time here. Nothing is worse than assuming you have everything you need only to finally haul everything out of the car and realize that nothing is like you thought it would be. Fortunately, Sunset Vacation Rentals offers a Vacation Checklist that may be helpful in your planning. You will need to supply staple items, condiments, paper products, garbage bags, dish detergent, cleaning products, aluminum foil, plastic wrap, and other kitchen essentials that may be necessary during your stay.
Sunset Vacations' kitchens come stocked with cookware and dinnerware. If there's a (small) specialty kitchen item that you use at home that you must have while away, you may want to consider bringing it with you if it's feasible. Examples of such items might be a microplane, salad spinner, meat thermometer, French Press or coffee grinder, just to name a few. You will want to feel at home in your Sunset Beach vacation rental kitchen, so consider items you may wish to use while away and plan to bring them along.
As mentioned earlier, you'll need to bring the condiments and pantry items necessary for use in your vacation rental kitchen. Salt and pepper, olive oil, and your favorite spices are all things to consider during your planning. You may want to bring these items from home (and save money by doing that) or you may prefer to shop for them while you're here. Either way, be prepared so you don't overlook an essential item. It's a good idea to note these items on your meal planner to ensure you have what you need.
Other Vacation Rental Kitchen Tips & Tricks
Here are some of our favorite tips and tricks that we have both avoided through forethought and learned the hard way to help you plan and prepare for your cooking adventures in your vacation rental kitchen. We hope you find a few, if not all, of these useful.
Consider a corkscrew.
It's one of those items that you assume will be there in the kitchen when you arrive, but sometimes it just isn't there. You probably won't think about it until you have the wine glasses out and the fine bottle of wine in hand. If you have a family like mine, this can result in a situation as irritating as having to run out for the sole purpose of getting a new one, or a situation as dangerous as the boys banding together and asserting their communal manliness by insisting they can "Jerry-rig" something to open it. Give yourself some peace of mind and just bring one.
Keep your meal planning simple.
Making meals in the kitchen of your vacation rental is supposed to be a relaxing experience. Don't complicate things by choosing to make extravagant meals that require a lot of ingredients. It's also not the best time to try something completely new and different. It's easier to plan for things you've already had experience making. We're not saying don't try something new, but just don't get too crazy. Keep it simple. Some of the best meals are made from a few fresh ingredients artfully combined and seasoned well.
Pack a portable spice rack.
By portable spice rack, we mean daily pill container, contact lens cases, or something similar. Spices are a necessity, but do you really want to buy them on your grocery run? They are pretty expensive and it's kind of senseless to buy all of these bottles of spices for just a week's vacation. Your best bet is to find a container or set of containers with big enough compartments to fill with your favorite cooking spices or spice blends that you already have at home. That way you won't be limited to salt and pepper, and instead you'll have a nice arsenal of flavors to add to your home-cooked meals.
Bring your own cooking oil.
Olive oil is a pretty common kitchen staple these days. If you don't use olive oil, you probably use some kind of other oil (especially if your cooking is anything like ours here in the south). Regardless of the type, do you really need a full bottle to cook with during your 7-day vacation? If not, consider packing a smaller container from the one you already have at home. You certainly don't want to have to bring all kinds of half-used condiments back home with you. Olive oil spray is another viable option. Take what you think you'll need during your vacation, and it will be one less thing you have to put on your shopping list. Worst case scenario: If you run out of it, then you can run to the store and buy more.
Make your own dry mixes.
Are you planning homemade pancakes for breakfast during one of your vacation days? Go ahead and premix your dry ingredients in a plastic baggie, label it, pack it, and you'll have an instant meal that just needs a few quick additions. No one wants to bother with bringing or buying separate containers of flour, baking soda and baking powder.
Don't forget about snacks.
Don't be overly ambitious when it comes to planning for three meals a day. You're at the beach and sometimes lunch consists of crackers, cheese and fruit while you're relaxing in your beach chair. Pack or purchase your favorite snacks not only for in-between meals, but because they sometimes become the meals. If you're traveling with kids, you know snacks are of utmost importance anyway.
We hope you enjoy the kitchen in your Sunset Beach vacation rental to its fullest and that our suggestions and recommendations are useful in your planning. Our goal is to help you to relax, to assist you in making the most of your surroundings, and to leave you with vacation memories that will last a lifetime. We expect you'll have some unforgettable meals, too. Enjoy!