---
6 of the Best Sunset Beach Summer Events
Posted On Monday, April 30, 2018
---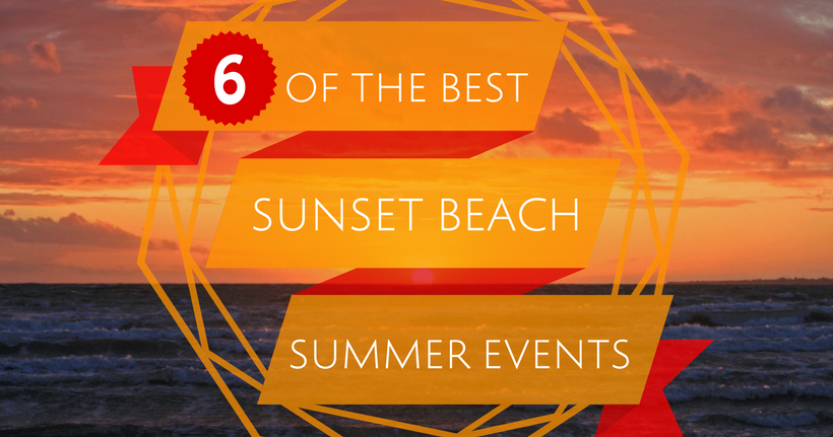 Sunset Beach, NC is a great place to be at any time of the year, but it really outdoes itself during the summer months. Thanks to the efforts of the Town of Sunset Beach, local businesses and organizations, and private individuals, everyone from residents to vacationers will find a special event to match their interests. Keep reading here to learn more!
Daily: The Shallotte River Swamp Park
Located just outside of Sunset Beach, the Shallotte River Swamp Park in Ocean Isle Beach, NC offers amazing personal growth and family-building day events that cater to adventure seekers and educational enthusiasts alike.
Knowledge lovers in your group will learn all about the local area by taking a 50-minute guided eco tour aboard a swamp boat, by hiking the mile-long self-guided riverwalk trail, and by visiting the 3,000 square foot reptile sanctuary. Is your party looking for a little more action? Spend a couple of hours challenging your group and yourself on the 53-obstacle aerial adventure course or soaring through the trees on the "longest and tallest" zipline course on the East Coast.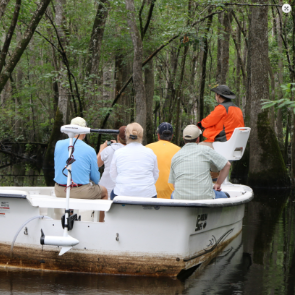 This outdoor center prides itself for maintaining "focus on our beautiful, natural landscape. Not only will our rangers guide you through a world of adventure, they also educate each tour about the ecological benefits our natural habitat provides. We do not sacrifice our surroundings for adventure, but rather cautiously enhance the experience by weaving the two together."
Choosing to undertake any of the event/activity options possible at the park guarantees that you will experience something really special and unique to the Sunset Beach area. Call 910-687-6100 or visit their website to learn more.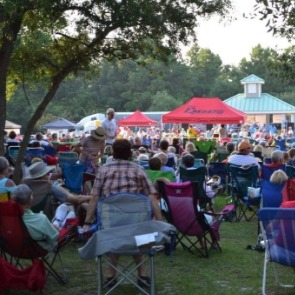 Weekly: Summer Concert Series
Music lovers rejoice, for the Sunset Beach Summer Concert Series is back for 2018!
The Town of Sunset Beach as well as more than 40 business Sponsors and private Friends of the Concerts have pooled their money to provide this uniquely amazing and FREE TO THE PUBLIC summer entertainment opportunity. Performers will hit the stage from 7:00 p.m. until 9:00 p.m. every Wednesday from May 30th through September 5th, 2018. The new, larger venue is The Village at Sunset Beach, on Sunset Boulevard North at the intersection of Park Road North (near the Planetarium).
The Concerts committee recommends arriving early (6:30 p.m. at least). Bring your own lawn chairs or picnic blankets, and settle in for a fun evening. Snack on items that you brought with you from your Sunset Beach NC rental or (even better!) buy dinner and/or treats from one of the on site event food sponsors. Parking is nearby and plentiful. Check out the full seventh anniversary band lineup below.
| WEDNESDAY | BAND | STYLE |
| --- | --- | --- |
| May 30, 2018 | Parrot Party | Trop Rock, Jimmy Buffet Tribute |
| June 6, 2018 | NTRANZE | Motown/Beach/R&B/Reggae/Hip-Hop |
| June 13, 2018 | Big Time Band | Variety/Pop |
| June 20, 2018 | Jebb Mac Band | Variety/Country |
| June 27, 2018 | Steve Owens & Summertime Band | Beach/Variety |
| July 4, 2018 | Blue Pickups Band | Oldies/Country/Rock |
| July 11, 2018 | Jim Quick & Coastline Band | Beach/Variety |
| July 18, 2018 | Paper Work | Rock/Funk/Dance |
| July 25, 2018 | Trey Calloway | Country/Soul/Rock |
| August 1, 2018 | Gary Lowder & Smokin' Hot | Beach/Variety |
| August 8, 2018 | Painted Man Band | Dance/Soul/Rock/Funk |
| August 15, 2018 | Tim Clark Band | Beach/Variety |
| August 22, 2018 | Lees Cut Band | Beach/Variety |
| August 29, 2018 | Dustin Chapman | Contemporary Christian/Country |
| September 5, 2018 | Silk Groove | Motown/Variety/Soul |
Weekly: The Summer Market
For a true taste of local flavor, look no further than the Sunset Beach Summer Market! This vendor fair event is scheduled every Thursday from May 3rd until October 11th. The market is located at 206 Sunset Blvd (the Sunset Beach Town Park). Operating hours are 9:00 a.m. to 1:00 p.m.
You can expect to find all kinds of yummy eats produced and/or prepared by local growers as well as crafted goods such as pottery and jewelry handmade by local artisans. One of the stated goals of this market is "to enhance the quality of life in our communities by providing social gathering and interaction," so come ready to mingle and make new friends!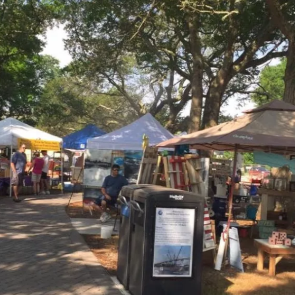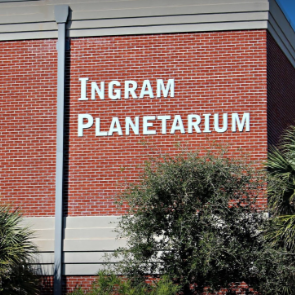 Weekly: Lasers and Lectures
No family trip to Sunset Beach would be complete without visiting the Museum of Coastal Carolina and Ingram Planetarium. Located four miles apart, these local gems were both conceived by a single man, Stuart Ingram, for the purposes of bringing educational opportunities to the community.
Both facilities maintain daily summer schedules packed with things to do. Most events are free for Museum and dual Museum/Planetarium members, active military, and disabled veterans. Non-member all-day admission (includes NC sales tax) is: $9.50 adults, $8.50 seniors (62+), $7.50 children (3-12). The facilities are free for children aged 2 & under.
The Museum of Coastal Carolina Sand Bar Lecture Series will present a new topic every Tuesday night beginning May 29th and running through August 28th. Lectures are varied and topics range from wildlife to military history to environmental issues. Ingram Planetarium has daily dome theater shows every hour on the hour from 11:00 a.m. until 4:00 p.m. They also present a movie feature several nights a week AND a one-of-a-kind music-based laser light show.
Call 910-575-0033 (Planetarium), 910-579-1016 (Museum) or visit their combined website for more daily and special event details. Summer evening events for both locations are listed below for easy reference.

Planetarium Events
| DATE | TIME | ACTIVITY |
| --- | --- | --- |
| Monday (All) | 7:00pm | Laser Show - Country Music |
| Monday (All) | 8:00pm | Laser Show - Pink Floyd: Dark Side of the Moon |
| Tuesday (All) | 7:00pm | Laser Show - Beatles |
| Tuesday (All) | 8:00pm | Laser Show - Led Zepplin |
| Wednesday (All) | 7:00pm | Movie - Kaluoka'hina: The Enchanted Reef |
| Thursday (All) | 7:00pm | Laser Show - 80's Night |
| Thursday (All) | 8:00pm | Laser Show - Plaid and Lasers: 90's Alternative Rock |
| Friday (All) | 7:00pm | Movie - Kaluoka'hina: The Enchanted Reef |
| Saturday (All) | 7:00pm | Movie - Kaluoka'hina: The Enchanted Reef |
| Saturday (All) | 8:00pm | Laser Show - Classic Rock |
Museum Events
| DATE | TIME | ACTIVITY |
| --- | --- | --- |
| Tuesday, May 29 | 6:00pm | Lecture - The Carolina Campaign During the American Revolution |
| Tuesday, June 5 | 6:00pm | Lecture - Understanding Climate Change and Effects |
| Tuesday, June 12 | 6:00pm | Lecture - Pelicans (live) |
| Tuesday, June 19 | 6:00pm | Lecture - Lookout Air Raid: The Day Japan Bombed Oregon |
| Tuesday, June 26 | 6:00pm | Lecture - The Story of the Fort Fisher Hermit |
| Tuesday, July 3 | 6:00pm | Lecture - Amazing Alligators |
| Tuesday, July 10 | 6:00pm | Lecture - The Widow Spy |
| Tuesday, July 17 | 6:00pm | Film - STRAWS |
| Tuesday, July 24 | 6:00pm | Lecture - Adventures & Challenges: Reflections on a Marine Corps Career |
| Tuesday, July 31 | 6:00pm | Lecture - Fontana Dam: Power To Win |
| Tuesday, August 7 | 6:00pm | Lecture - Surfing |
| Tuesday, August 14 | 6:00pm | Lecture - Marsh Discovery Walk |
| Tuesday, August 21 | 6:00pm | Lecture - The Battle of Fort Wagner |
| Tuesday, August 28 | 6:00pm | Lecture - 9-11 Before, During and After |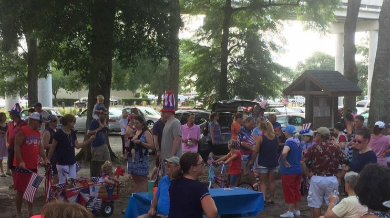 One Day Only! July 4th at the Old Bridge
Start Independence Day off like a local by heading over to the Old Bridge (109 Shoreline Drive West, Sunset Beach) and taking part in the annual 4th of July parade!
Starting at 9:00 a.m. participants of this event walk, bike, roll and otherwise parade across the Old Bridge, all while accompanied by rousing holiday music. Everyone is welcome to join in the parade, so come decked out in your best red, white, and blue!
Plan to hang around after the parade, because the Old Bridge Preservation Society has plenty of games, activities, and light refreshments planned for everyone to enjoy. This event is weather dependent! Visit the Old Bridge Preservation Society website at oldbridgepreservationsociety.org or call 910-363-6585 for additional details.
One Day Only! Sunset at Sunset
Sunset Beach's annual "community block party" is held in the open area between the Food Lion and Ingram Planetarium every year on the first Saturday on October. Sponsored by the Sunset Beach Town Council, this event includes a photography contest, a 5k run across the Mannon C. Gore Bridge, and numerous band performances.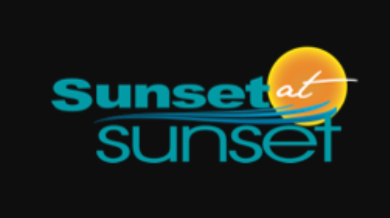 If that isn't enough to pique your interest, there are also dozens of local growers, makers, and artisans from whom you can buy locally sourced and produced items. You can also expect to see representation from local community non-profits and traditional vendors.
This year's event will be held on October 6th, 2018. Check out their website for more information.

With so many cool and different events happening in Sunset Beach this summer, you're sure to find a few that match your interests. We hope to see you around!
Did this article help you plan something fun to do in Sunset Beach this summer? Please SHARE it with your friends on social media!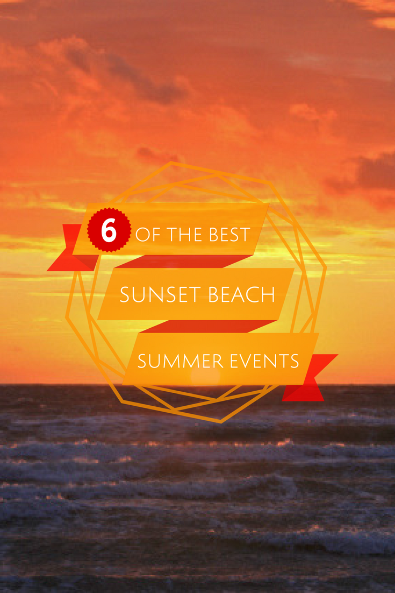 Comment on this post!