---
6 Ways to Keep Your Pet Safe at The Beach
Posted On Monday, April 9, 2018
---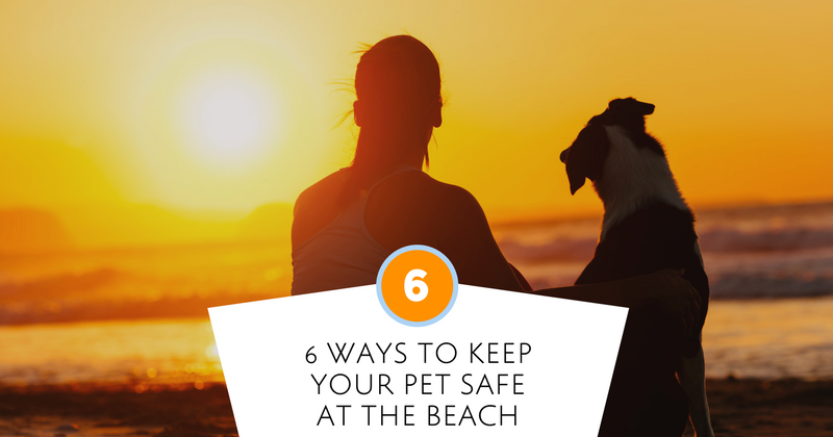 There are so many things to think about while planning your perfect Sunset Beach vacation, especially if you intend to bring along the family dog. Since pet safety at the beach is one topic that is often forgotten during the preparation stage, we've put together this overview of things for you to think about BEFORE you arrive in gorgeous coastal North Carolina.
Heat
Dogs are fairly resilient creatures, and most are able to adapt to moderate temperature changes without much trouble. If you and your pet are travelling to Sunset Beach from a much cooler climate, you should take care to introduce your animal to the warmer weather in short chunks of time.
Your dog *may* be suffering from heat-related problems if it exhibits any of the following: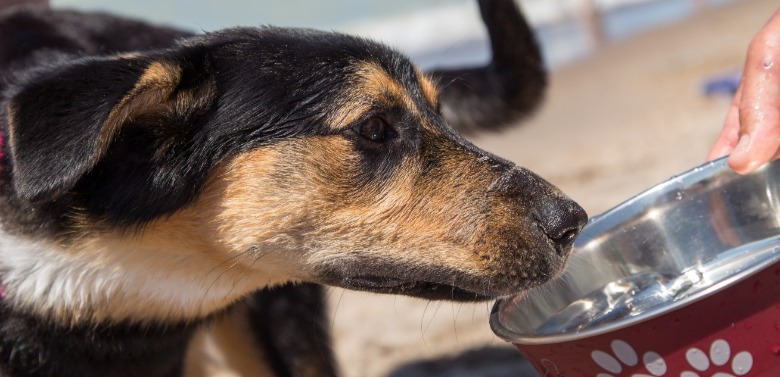 Rapid and/or excessive panting
Inability and/or unwillingness to get up after laying down
Vomiting and/or diarrhea
Loss of appetite
Keep in mind that some
breeds
can physically tolerate heat much better than other breeds. As a general rule, dogs with short snouts do not do as well in the extreme heat as dogs with longer noses because they are not as efficient as releasing their body heat through panting. Very large dogs and dogs with thick or matted fur also tend to struggle with heat. And just like humans, very young and/or very old animals may struggle with heat more than their more middle-ranged aged counterparts.
Dehydration can be a serious medical concern for your pet if he or she doesn't maintain a healthy level of water intake during your vacation. One of the most important steps that you can take to guarantee your pet's happy, healthy vacation is to make sure that it has constant access to clean, fresh drinking water.
You may also want to read this detailed article about how to recognize and react to
heat stroke in dogs
.
REMEMBER! You know your pup better than anyone else. Trust your gut if you think that your pet may need veterinary attention.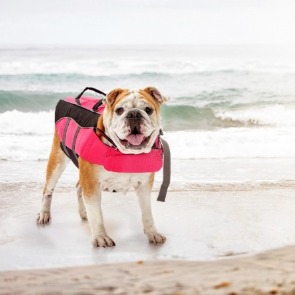 Safety Equipment
Even the best behaved dog may benefit from having some additional safety and welfare equipment while on vacation. After all, the last thing that anyone wants is for pup to wander off to an unknown destination, to become overstimulated and behave in an uncharacteristic way, or to hurt themselves in an unfamiliar environment.
Make sure that all standard harness, leashes, collars, etc are in good condition and completely functional. Depending on the details of your particular vacation, you may also want to consider having the following equipment on hand to help pup have a safe and fun vacation:
Dog Life Jacket
Safety Gate
Pet Crate
While you may have expected to read about the first three safety items, these next two - and their reasons - may surprise you:
Portable Ramp: There may be a lot more in-and-out, up-and-down than your dog is used to. A ramp may be helpful for your animal, and it may prevent you from having to do lots of puppy-lifting. This safety item may benefit you both!
Paw Protectors: The weather can get hot here in Sunset Beach, NC! If it's too hot to walk on asphalt or sand because it burns your feet, your dog shouldn't be walking on these surfaces with unprotected paws either.
Stress
Most dogs prefer some semblance of a routine, which may be hard to achieve or maintain while you're on vacation.
As it happens, some of the signs of stress in your pet are the exact same as those of heat illness. No matter the cause, if you noticed things like decreased appetite and/or increased lethargy in your four-legged fur-baby, it may be time to check in with a local veterinarian.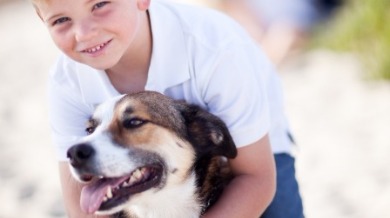 Other signs of anxiety may include:
Excessive licking of the nose and mouth
Non-stop barking and/or howling
Destructive behaviors
If you decide that your dog is exhibiting the signs of a stressed out canine, don't throw in the vacation towel just yet! Some of the most effective ways to soothe an anxious dog include spending more time together and getting some additional exercise, both of which are completely achievable in an enjoyable way. Regardless of how your choose to help pup overcome his vacation stress, don't forget about the heat and safety equipment warnings in the tips above.
Is your dog in need of some professional relaxation ministrations? You may want to consider utilizing the local services of RiverPaws Pet Spa or Pawsitive Mobile Pet Spa.
Pet-Friendly Property Rental
Sunset Vacations offers dozens of pet-friendly properties. These rentals have been specifically set aside to meet the needs of your ENTIRE family, because we know that a successful Sunset Beach, NC vacation includes your pup and we aim to please!
Because we keep a solid inventory of pet-friendly properties, we have established a clear pet
policy
. An important take-away of the policy is this: "Bringing pets into homes that are not designated pet friendly will result in immediate eviction."
If you plan to bring a pet along to stay with you in your Sunset Beach vacation rental, be SURE to rent one of our pet-friendly properties!
IMPORTANT NOTE! If you have rented one of our properties that includes a screened porch, please remember that these areas of the rental can get hotter than you think, especially as the sun is in the west (while the sun is setting).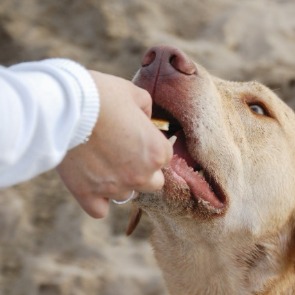 Stay In Control
It's natural to want to relax into your vacation, and this mentality may include loosening some of the hard and fast rules that you normally enforce within your family. While this may be a good thing for your partner and the two-legged children, it may NOT be a healthy change for pup.
Stay firm and consistent. No means no, no matter where you're living for the week.
Offer rewards. Pup won't care if they are edible treats or an extra romp outside.
Who's the boss? You are. End of discussion.
Know The Rules of the Strand
The Town of Sunset Beach knows that dogs are important members of your family. In order to keep the beach enjoyable and accessible for all visitors, please make sure you and pup adhere to the following:
Memorial Day
through Labor Day #1
Dogs are NOT allowed on the strand between the hours of 8 a.m. and 6 p.m. from the Friday immediately preceding Memorial Day through Labor Day, whether or not the dog is leashed and under the control of the owner or some other person.
Memorial Day
through Labor Day #2
After 6 p.m. and before 8 a.m. from the Friday immediately preceding Memorial Day through Labor Day, dogs are permitted on the strand if leashed and under the control of the owner or some other person assuming responsibility for the owner.
Labor Day
through Memorial Day
After Labor Day and before the Friday immediately preceding Memorial Day, dogs are permitted on the strand if leashed and under the control of the owner or some other person assuming responsibility for the owner.

Additionally, violation of the next policy may result in a $100 fine per offense:
"Any person owning, keeping, possessing or harboring any pet shall carry in plain view bags and utensils to promptly remove and dispose of all feces left by the pet on any public property and on any private property not owned or lawfully occupied by such person within the Town of Sunset Beach and shall promptly remove said feces left by said pet."
Click here to read the Town of Sunset Beach dog ordinances for yourself.
We know that bringing your pet along on your beach vacation is important to you and your family. We hope these tips will help you have a fun and SAFE trip!
For additional tips about bringing your pet along on your Sunset Beach vacation, read this.
Comment on this post!