---
The Best Food and Wine List For Your Vacation
Posted On Monday, August 13, 2018
---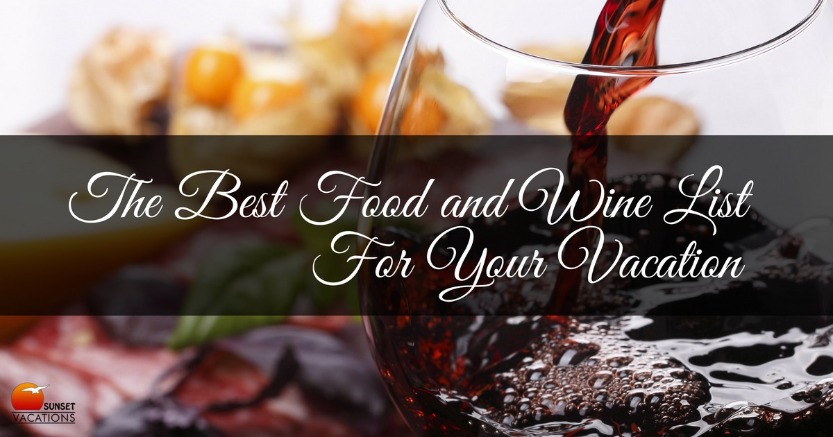 (this blog was updated July 2020)
Here at Sunset Vacations, we've written quite a bit about how to eat well while you're visiting Sunset Beach, NC. From how to eat the best seafood to the top five local places to eat to local places to eat seasonal fare, we've given you lots of outside dining options. When it comes to eating in at your vacation rental, we've covered fun stuff that even the kids might like in our kabobs post, posted "romantic" recipes, and talked about how to deliciously prepare fish such as salmon.
What we haven't written about is the liquid complement options for all of these food choices. So for all those wine (and craft beer) lovers out there, this blog's for you!
How To Pair Food and Wine
The correct pairing of food with wine is an art form that can take a lifetime to perfect. Fortunately, it doesn't take nearly that long to learn a few general rules regarding which wine goes with what food.
When it comes to dinner pairings, the following (very!) general guidelines will serve you well in most circumstances:
Red wines go with red meats, darker pork dishes, and tomato-based pasta dishes
White wines go with flaky white fish plates, lighter pork dishes, and white-sauced pasta dishes
You can read more about how to pair wines with foods here and here, and here's a great guide to pairing wines and cheeses!
Did you know?
National Wine and Cheese Day is observed on July 25!
Where To Buy The Best Wine In Sunset Beach
The following list of local retailers are all excellent places to shop for the perfect wines to go with your lovingly-prepared vacation rental meal, to ask any questions that you may still have about how to best pair foods with wines, and/or to simply sample different wine varieties to learn which wines you like best.
Each store has its own vibe, so you may want to check out more than just one!
Silver Coast Winery
Silver Coast Winery
invites you to "discover the hidden treasures of the Silver Coast. Visit Brunswick County's first winery, located just inland of Ocean Isle Beach. The winery offers tours and tastings of our award-winning, European style wines every day. The winery is located midway between Wilmington and Myrtle Beach just minutes from Sunset Beach and Ocean Isle Beach.
Explore the art gallery where local art adorns the walls for visitors to enjoy. Shop in the unique gift shop for an array of wine related items and gifts. The Barrel Room, with its enchanting waterfall, offers a unique setting and is perfect for special events, meetings and weddings."


ADDRESS:
Silver Coast Winery
6680 Barbeque Rd NW
Ocean Isle Beach, NC 28469
HOURS:
Monday - Thursday: 11AM - 6PM
Friday: 11AM - 7PM
Saturday: 11AM - 6PM
Sunday: 12PM - 5PM
CONTACT:
Phone: (910) 287-2800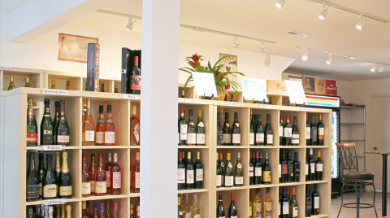 Coastal Wine Room
Owners Wendy and Frank tell us that "at the Coastal Wine Room, our mission is to introduce our passion for wine to the local island culture. We stock a comprehensive fine wine and beer selection, and our weekly tastings give customers a chance to sample and learn about our featured wines and interact with our knowledgeable staff.
Wine experts work diligently to carefully select unique labels, and we specialize in hard-to-find wines from large and small vineyards. The knowledge we provide to our customers about the wine making, the complexity and personality of each type of wines along with recommending a good wine to the taste will create a lasting positive impact on their lives with joy, sophistication, and artistic appreciation for wines."


ADDRESS:
Coastal Wine Room
20B East 2nd Street
Ocean Isle Beach, NC 28469
HOURS:
Monday - Thursday: 1PM - 8PM
Friday - Saturday: 1PM - 9PM
Sunday: 2PM - 7PM
CONTACT:
Phone: (910) 393-2125
Email: [email protected]
We look forward to becoming your favorite destination for an apertif before dinner reservations, or an expertly selected bottle of wine or dessert to pair with dinner at home!"
We hope this food and wine post helps you pick the perfect pairing while you're visiting with us here in beautiful Sunset Beach, NC!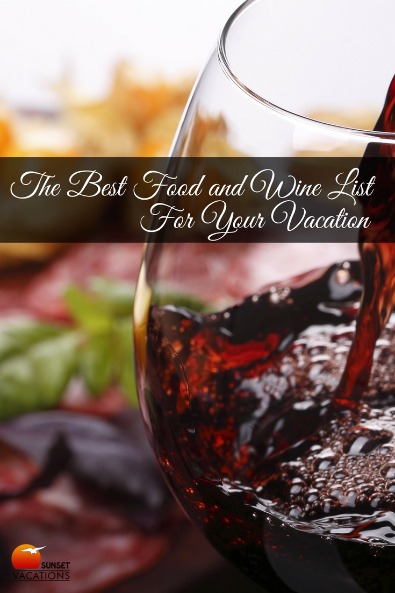 Did this post help you pick the perfect food and wine combo? Please SHARE it with your friends on social media!
Comment on this post!