---
5 Reasons Why Sunset Beach is the Best Summer Destination
Posted On Monday, May 29, 2017
---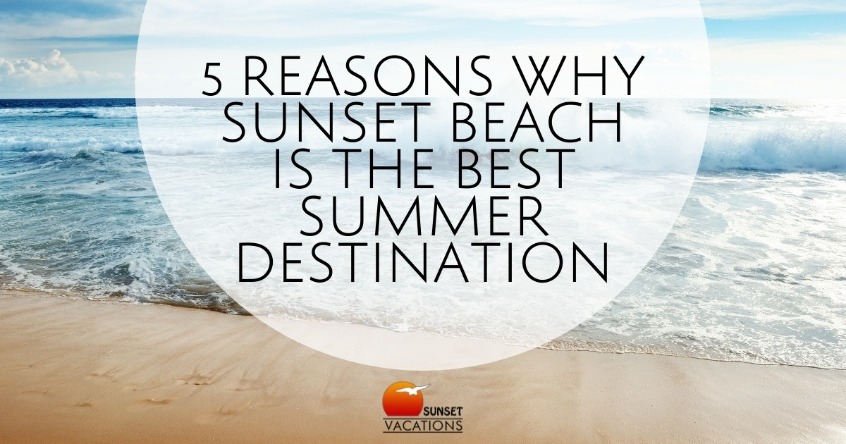 *** This blog was updated for content and accuracy August 2021 ***
Ah, summer!
The word just makes you think BEACH! FUN! ICE CREAM! SLEEPING IN!
You can have all of this (and much more) when you visit Sunset Beach, North Carolina. In today's blog, we will list just a few of the reasons Sunset Beach is the BEST summer vacation destination.
Can't make it here this summer? No worries! Now is actually a GREAT time to plan your trip for next year. After all, the best Sunset Beach rentals go quickly, so planning early is to your advantage. Now, five reasons Sunset Beach is the BEST summer destination!

1. The Beautiful Beach
What is a summer vacation without the beach? After all, what could be more calming and rejuvenating that the soft sound of the ocean waves under a clear, sunny sky? As the name suggests, Sunset Beach is stunning. Pristine sand. Lovely, picturesque clumps of beach grass and sea oats. And, of course, incredible sunsets. What could be better?
Learn more about The Most Interesting and Beautiful Nature of Coastal North Carolina by clicking here!
2. Tranquility
Sunset Beach is truly beautiful and peaceful. The waters aren't filled with enormous cruise ships blocking your view, and the beaches aren't crowded with partying teenagers like you might find in some of the more commercial beaches to our south. Sunset Beach is truly family-friendly. You will hear the sound of laughter floating through the air! Sunset Beach is a happy spot, where your little ones can run and stretch their legs, and you can throw your head back and soak in the sunshine without stress or worry. Which is exactly what you are looking for in a vacation spot, isn't it?
3. Freedom from Commercialism
One of the things that contributes to the beautiful tranquility in Sunset Beach is its freedom from commercialism. The unsightly mega stores and the characterless chain stores are nowhere to be found. Instead, there is a sprinkling of charming local shops, where you can find beautiful souvenirs, beach styles, and even the perfect beach read!

4. Proximity to more fun!
If you have young kids, you will most certainly appreciate the tranquility of Sunset Beach, and the fact that you are vacationing in a place without a lot of commercialism to distract you from the beauty all around. That being said, you might still want to take an excursion to a theme park or some other very kid-specific place. You will be happy to hear that Sunset Beach is only a short drive away from Myrtle Beach! While it is far enough away that you can escape from the crowds (not to mention the money you will save by staying in a small town like Sunset Beach), it is close enough for you to visit if you want to take in an attraction or two.
Find out more about why Myrtle Beach is the Perfect Day Trip From Sunset Beach!
5. The Stunning Homes
Maybe this one should have been number one. But who says the best can't come last? Sunset Beach (and more specifically, Sunset Vacations) has some incredible vacation rental home treasures. And, as we all know, where you stay will make or break a vacation. If you are overcrowded, cramped, and stuffed into a space, you will not have a relaxing vacation. And when you aren't the perfect distance from the beach, your vacation can also be a disappointment.
Looking for the perfect beach vacation spot? Look no further than Sunset Beach! We have all of the components that make for a stellar vacation, along with excellent prices. Contact Sunset Vacations today to plan your next vacation - whether it's during the summer, fall, winter or spring! We will be here.
Comment on this post!