---
How to Have the Best Fourth of July Ever in Sunset Beach
Posted On Monday, June 5, 2017
---
Fireworks. Hot dogs. Hamburgers. Cool lemonade. Sparklers under the stars. It's all coming in just under a month! And it's coming to Sunset Beach like no where else. That's right! The 4th of July is almost upon us, and Sunset Beach is your dream destination in which to celebrate it.
This year the 4th is on a Tuesday. Which means, if you only take the Monday before off, you can have a fabulous four day weekend to spend entirely with your family on fun, relaxing, and celebrating. Now, doesn't that sound just perfect? Of course, as anyone who has planned a family vacation knows, a plan greatly facilitates vacation fun. Let us lead you down a road of suggestions that will help you have the best Independence Day ever in the stunning setting of Sunset Beach.

Make Sure You Have Enough Space
The Fourth of July is a time for family fun and celebration. It just isn't the 4th without family around you to help you indulge in a backyard bbq. In Sunset Beach, we celebrate the joy of spending time with your family, especially while on vacation at the beach! Here at Sunset Vacations we have plenty of rental homes that will comfortably hold your own little family as well as grandparents, parents, siblings, and anyone else who wants to join in the festivities. The more the merrier! Just make sure that you plan enough space for everyone that you bring with you - just one of the reasons a vacation home is the perfect option for you!

Work on Your Tan
Ah, can't you feel it? The sweet caress of sun on your skin back when you where a kid, or even in college, when you would lie out by the pool to get dried off and warmed up? The 4th of July is the perfect time to recapture that delicious sensation. It isn't every day that you can relieve a bit of your childhood. So soak up every bit of rejuvenating sun that you can on this holiday vacation, leaving all of the grown up cares behind that you have accumulated over the years.

Indulge in Delicious Food
Do you like to cook? Surely you at least like to eat! Far too often, we don't take the time to really taste the food before us. And if you are very crazily busy, maybe you don't even take the time to eat properly, subsisting on protein shakes and breakfast bars to get you from school drop off to gym to next project that is due. The 4th of July weekend, with its traditional hamburgers and hotdogs, patriotic trifles, and all kinds of other delicious goodies is the perfect time to slow down, take the time to prepare a healthy and delicious meal for your whole family, and really enjoy the whole sensory experience of eating and laughing over your food with family and friends. All of our beautiful rental homes here at sunset vacations come with fully equipped kitchens so that you can prepare, and enjoy, every family favorite fourth of July food this year.

Take in a Celebration
While the 4th is the perfect time to indulge in fabulously fun family time and scrumptious food, the day is about so much more. We all know what the 4th commemorates: the signing of the Declaration of Independence, when our country officially began its journey to freedom and country-hood. It is always nice to be reminded of this, though, through a noisy, fun, 4th of July celebration! Southport's official NC 4th of July celebration is sure to fulfill every 4th of July celebration desire! Starting in colonial times, Southport has celebrated this momentous day with first cannon fire and now more modern patriotic pageantry. Check out their website for more details. We know you will want to catch this celebration for sure!

Catch Some Fireworks
Southport does also have a lovely firework show that begins at 9PM on July 4th, but if you really want to indulge in a firework extravaganza it is time to head to Myrtle Beach! Down in the Myrtle Beach Boardwalk Entertainment District there will be live entertainment and music playing all evening, plus lots of fun restaurants and shops to indulge in. Then, at 10PM, the fireworks will be shot off from the Second Avenue Pier.
We can't wait to have you come and spend this family fun filled, meaningful holiday with us here in Sunset Beach! Stay with us and we can guarantee that you will have the best 4th of July ever!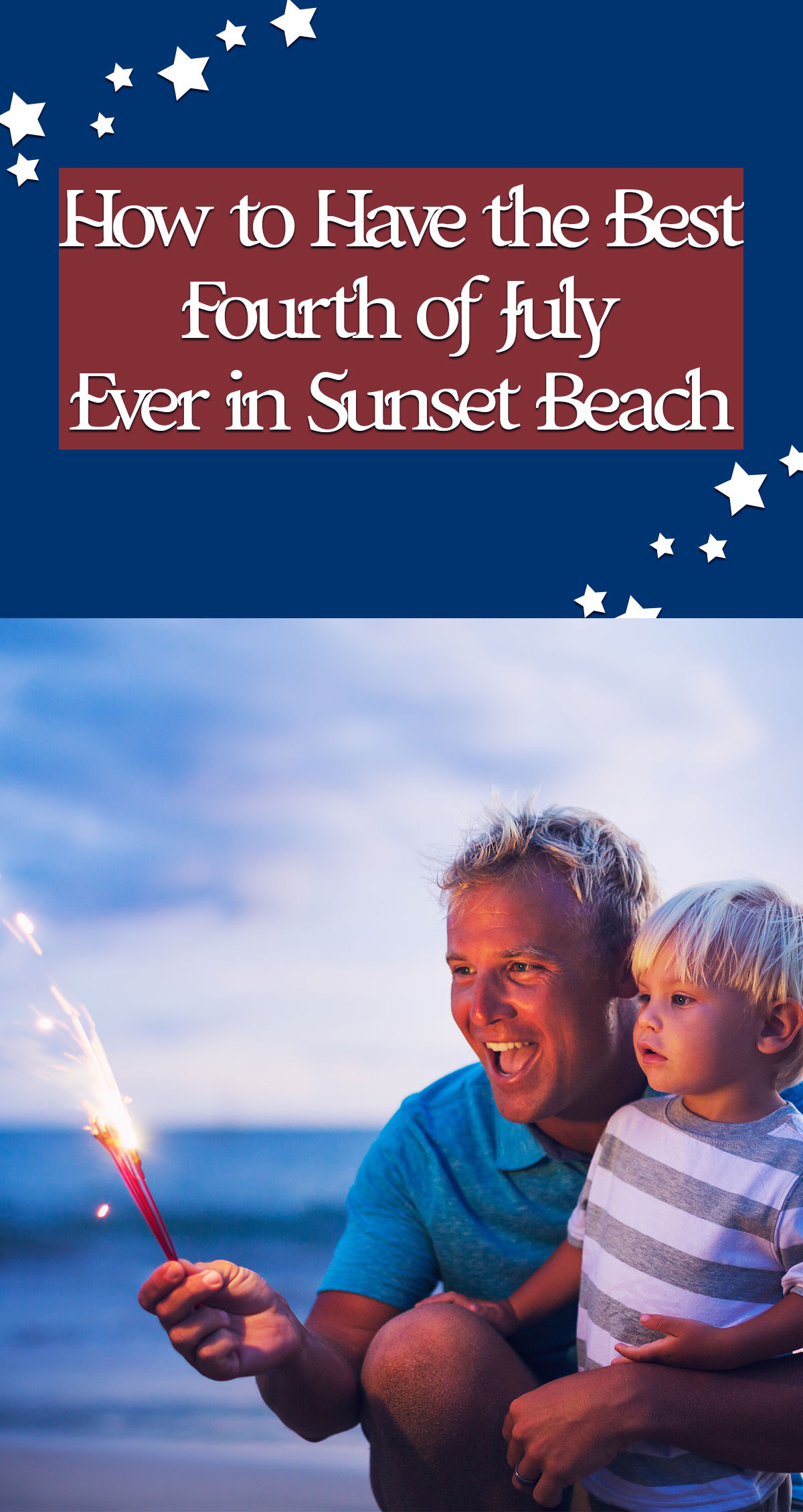 Comment on this post!