---
How To Make Cool Stuff With Your Sunset Beach Treasures
Posted On Monday, May 21, 2018
---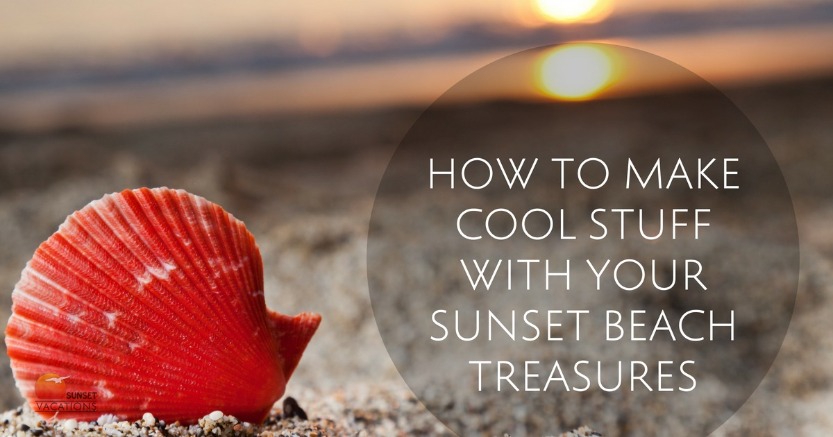 🔹This blog was updated in December, 2019 🔹
Whatever treasures you've brought home with you from your Sunset Beach vacation, we can help you find a way to work them into a really neat home décor project that you can relish all year long! Keep reading for ideas that the whole family will love!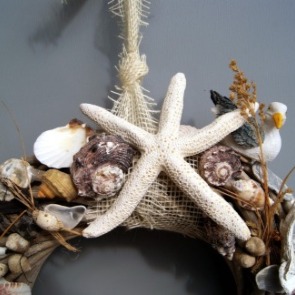 Wreaths
Wreaths are easy to customize and can become a real statement piece for your home.
Foam, wire, and grapevine are some of the classic structural forms, but really anything that's solidly constructed and has a circular appearance can work. The main things to keep in mind when choosing your base are the total weight of your materials as well as how you plan to attach them. Floral wire and craft or hot glue tend to work best with beach materials such as shells, sea glass, and driftwood.
Before you begin, you'll need to decide if you are going to include additional embellishments in your wreath along with your found beach treasures. Ribbon, rope, netting, and small nautical charms are all excellent trimmings that can add depth and interest to your wreath project. These items are often very inexpensive and can usually be found in dollar stores.
Once you've collected all of your supplies, you're ready to start on your beach treasure wreath. If you've chosen a frame that requires coverage or coloring, you'll want to do that first. Once the frame is wrapped or has dried, you can begin attaching your beach treasures. Place and attach the larger and/or heavier items first and build the rest of the design around those pieces.

Hang your wreath in a prominent location in your home and enjoy!

Looking for some Pinspiration? Try option one or option two here!
Frames
If a wreath is a little too Martha Stewart for your tastes, but you still like the idea of creating a piece of embellished home décor with your beach treasures, then a frame craft is likely your perfect project.
Frame projects have many of the same initial and practical considerations as wreath projects. You need to decide on the size and underlying structure of the project, you need to consider the size and weight of the beach treasures that you plan to incorporate into the design, and you need to collect any additional embellishment items before you begin.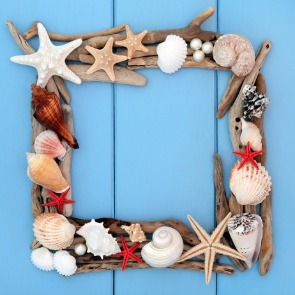 Most frame projects will be for standard picture frames, and this makes a lot of sense. Most of us have extra or unused frames laying around the house somewhere, or else we have frames that could use a little updating. Picture frame projects also tend to be a quicker undertaking overall, and since they are so easy to do, everyone in the family can create one!
Making a beach-themed frame with your Sunset Beach treasures is also a neat way to display some of your favorite pictures that you have printed after your vacation is over. After all, what could be a better memento of your amazing vacation than a 5x7 image of your laughing family, framed by sea glass and shells that you found on the same day as the photo was taken?
Idea twist: Not a fan of the picture frame idea? Use a mirror frame instead!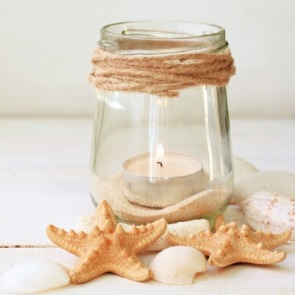 Capsules
There's something inherently cool about a memento capsule. Capturing a special moment in time and preserving it for the future is something that will never go out of style, especially if you accomplish it in an interesting way.
But how can you convert your beach treasures into a capsule project worthy of your Sunset Beach artifacts? We've got a more than one idea for how you can display and enjoy them!
Lamps
The easiest way to create a lamp capsule is to use any existing lamp with a clear base. If you don't already have one, these types of lamps can be found at any number of online or brick and mortar shops, as well as yard sales or thrift stores. With these items, all you have to do is fill the basin with your treasures and plug it in. Instant capsule!

Centerpieces
A table centerpiece is another quick and easy way to create a functional capsule for your beach treasures. You can use any type and size of clear container for this project, and the design can be as deliberate or whimsical as you'd like. Recreate a beach scene by layering in your sand and shells or mix everything together for a more carefree look.

Did you only bring home a small amount of treasure? No worries! Use non-transparent containers such as small tin pails and place your beach finds on top, or just decorate the outside of your centerpieces instead of filling them up.

Hour Glasses
ADVANCED OPTION!! Do you still have beach sand that needs to be used? Are you interested in a more challenging kind of capsule project? If you answered yes, this hour glass undertaking may be just what you're looking for!
There are so many fun things that you can do with your beach treasures that will transform them from simple beach vacation memento into beautiful, usable items for your home. We hope that these ideas help you incorporate a little Sunset Beach vacation magic into your daily life!
Did you get a great idea while reading this post? That's great! Please SHARE this article with your friends on social media!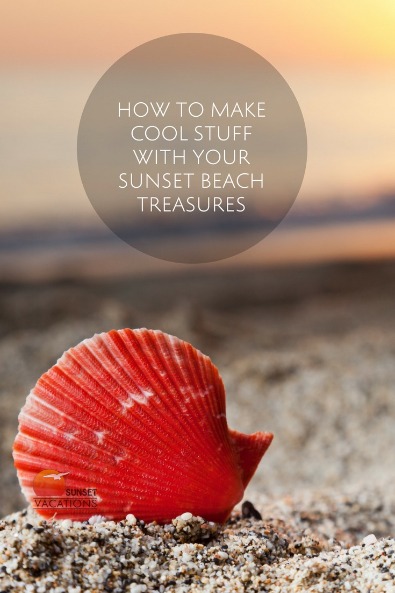 Comment on this post!