---
How to Pack the Perfect Beach Bag
Posted On Monday, April 2, 2018
---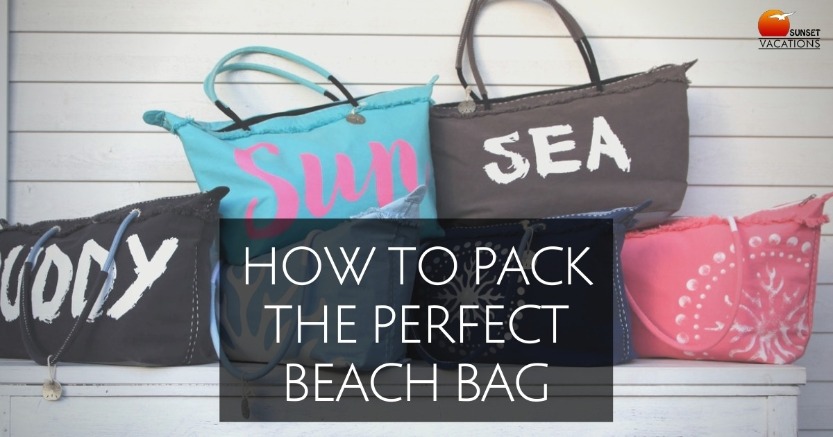 ** This blog was updated for content and accuracy May 2021 **
Being prepared for anything is part of the job description when you're a parent, and that won't change just because you happen to be catching up on some well-deserved R&R in Sunset Beach. Because we know that you've got a lot to think about already, we put together this quick but useful list of things you NEED TO PACK in your beach bag to help minimize your risk of overlooking something important.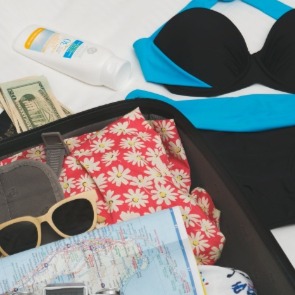 Sunscreen - and lots of it!
Okay, sure, this one's a given, but don't skip over this section just yet! Remember, it's not only about HAVING sunscreen, but also about making sure the stuff you have is what you need.
Check your dates. Expired sunscreen (or sunscreen that has passed the 'best by' date on the bottle) will not protect you from the sun's radiation as well as sunscreen that is within its effective date. However, keep in mind that sunscreen is designed to last for a few years, so even if your bottle is the same one you had at the beach last year, as long as it hasn't changed color or consistency and it's not expired or bad-smelling, it should be okay to use. Use your best judgement and if in doubt, buy some new stuff to stick in your beach bag.
Decide your method. Which type of sunscreen is better - aerosol or lotion? Is there a clear winner? Does it even matter?
These questions have been muttered by sunscreen-buying beach-goers for years. The general debate tends to revolve around certain themes: environmental concerns, ingredients, and level of effectiveness being just a few. While all of these are valid and important points of conversation, when it comes to your day at Sunset Beach, we think that the "best" sunscreen is simply the one that you and your family will use to protect yourselves from the harmful effects of the sun's radiation.
Don't miss a spot. Remember to hit easy-to-overlook spots such as your lips, ears, tops of feet, and the back of your neck.
Reapply often, especially after swimming and sweating.
---
Cover-Ups
Keeping an extra cover-up (or two!) in your beach bag is a total must.
Wet clothes may not be as effective at protecting your skin against harmful sun exposure as dry clothes. Throwing a uni-sex shirt in your bag lets you prepare to protect everyone in your beach party while their primary cover-up is drying out in the sun, without adding a lot of extra weight or bulk to your haul.
Keep in mind that the sun is strongest in the middle of the day, which also happens to be when it is high overhead. Don't forget to include head covers such as ball caps or wide-brimmed hats. For women, scarves can be a great head cover choice. In addition to having more style flexibility, they can often be arranged to cover the neck, shoulders, and delicate chest skin area.
Food and Drink
Although moms tend to be uniquely skilled at dodging the "I'm hungry" complaints, heading to the beach brings with it its own set of unique challenges. Keep these tips in mind while packing snacks for your crew:
Pack healthy snacks with a high water content. Think oranges, pineapples, and grapes. Avoid salt-laden and high-sugar foods. Small serving sizes prevent sand contamination.
Prepare water bottles a day ahead. Fill halfway with water and freeze overnight. Fill completely before heading to the beach and you'll have cold drinks without having to haul along an extra cooler! Pouch juices freeze and thaw easily as well.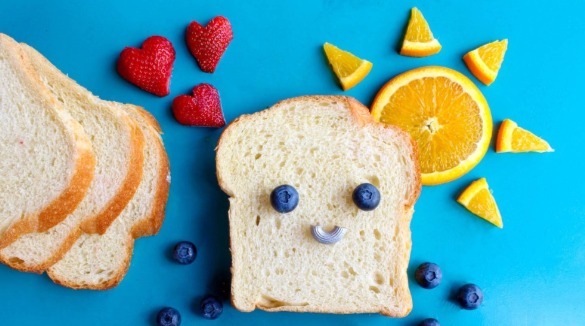 Other / Optional Beach Activities
There may come a time when your find that everyone in your beach party is water-logged and done. If this happens to you, don't despair! We have a couple more tricks up our sleeves, and we're willing to share them with you.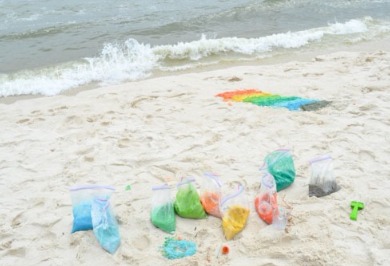 Become a Sand Artist
1. Use your shadow as a template and take turns sketching funny faces and outfits on each other.
2. Create a colorful scene. Use these instructions to dye sand.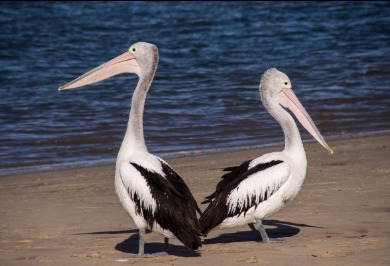 Animal Watching / Identification
North Carolina is home to many species of wild creatures, and you are sure to see a number of them during your time at Sunset Beach.
Brush up on NC beach birds here!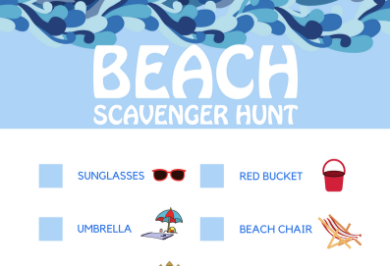 Scavenger Hunt
Scavenger hunts are one of the most effective boredom-busting tools in a parent's toolkit.
The best part? You can add more items as needed!
Locals Never Leave Home Without ...
Baby Powder
Yep, you read that right! Locals never leave home without baby powder in their beach bags. This powder is a loosely-kept sand-removal secret. Just dust it over damp skin and wait a minute. The powder will soak up any moisture and the sand will brush right off. No tears required.

Baggies
In addition to supporting the sand art activity described above, baggies are an absolute must-have in your beach bag, for all the usual reasons. Not only are they great for safeguarding small items that made their way TO the beach, they're also great for setting limits on what can come home FROM the beach.
Bluetooth Speaker
We're not talking about anything massive or capable of cracking your neighbor's decibel meter, but having some tunes at the beach is a local gotta-have. Getting everyone to pitch in with creating an awesome beach tunes playlist will even help you score some extra quality family time.
---
ICE Info
While chances are great that your day at the beach will go off without a hitch, it may happen that you or someone in your group will require some kind of medical attention. In the event that you are busy attending to the urgent needs of your family, there should be an easily accessible In Case of Emergency (ICE) information card somewhere in your beach bag.
At a minimum, you should include the following information for each member of your group:
Name
Age
Emergency Contact Phone Number #1 (can be group member)
Emergency Contact Phone Number #2 (non-group member)
Known Medical Conditions / Allergies
Current Medication List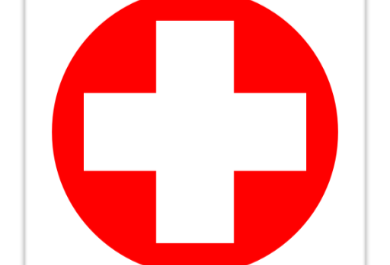 Including a current photo on each card is a helpful addition in the event that medical responders are working without additional input from group members, or in case a member of your group becomes lost and you need to enlist the help of compassionate strangers to help find them.
Finally, this information can be helpful if you find yourself on the way home from the beach only to realize that you've left your bag behind. Having this information as part of your standard beach bag kit will allow others to return it to you and/or you to collect it from a secondary safe-keeping location.

If you're looking for a more detailed emergency contact / medical information card, try this one.
---


Did you enjoy this post? Please take a quick moment to SHARE it on social media!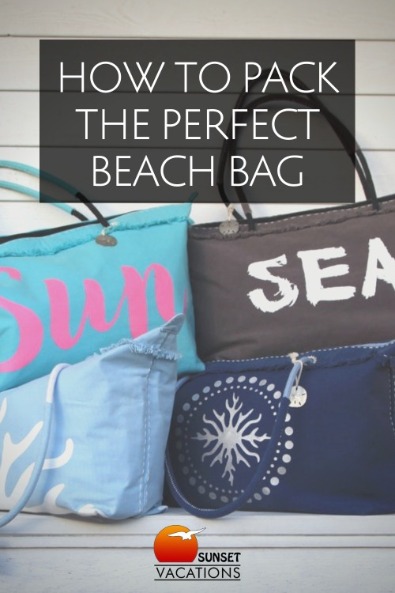 Comment on this post!