---
The Best Summary of the 2018 Sunset Beach Concert Series
Posted On Monday, May 28, 2018
---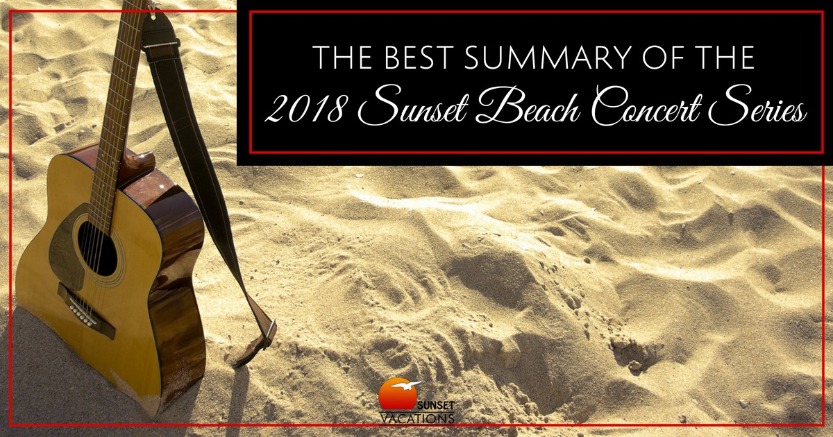 There ain't no concert like a Sunset Beach Concert and Sunset Beach has concerts all summer!
Every Wednesday evening this summer, beginning on May 30 and running through September 5, 2018, the Sunset Beach Concert Series will sponsor a FREE concert in Soundside Park from 7:00 p.m. until 9:00 p.m. Bring your lawn chairs or picnic blankets and come join in the fun. Locals and visitors alike report that this is one of the best events of the summer!

Note: Biography information was pulled directly from artists' facebook or website whenever possible.
Who: Randy Knight & Parrot Party
When: May 30, 2018
Style: Trop Rock, Jimmy Buffet Tribute
Biography: Parrot Party is the culmination of a life long dream of guitarist and vocalist, Randy Knight. After meeting harmonica pro, Doug Cayton... Parrot Party was in it's creation. Using soundtracks from both Randy and Doug as well as extremely accomplished studio musicians, this Trop Rock Band meshed immediately. It was a "Parrothead's" match made in heaven! We now perform all of Jimmy Buffett's greatest hits in a variety of venues throughout the Southeast and beyond.
Find them on Facebook for more information!
Who: NTranze
When: June 6, 2018
Style: Motown/Beach/R&B/Reggae/Hip-Hop
Biography: NTranze is more than just a live dance band thrilling audiences throughout the Carolinas and abroad. They are highly focused technicians of music and dynamic international entertainers. NTranze is known to set a party room on fire!!! With all your favorite songs (from Beach music, R&B, Funk, Rock, Motown, Reggae, Hip Hop (old and new)..."if needed' and "if necessary" we know just how to break the ice on your special event! NTranze is known to unify and electrify the dancefloor with all of your line dance favorites (the Wobble, the Cupid Shuffle, the Electric Slide...the works!!!)
When watching the band impress the audience with all the late and current hits, be prepared to join the band on stage at any time. Sing along with classics like "Sweet Caroline" and "My Girl".
Who: Big Time Band
When: June 13, 2018
Style: Variety/Pop
Billing themselves as "the party band for the party people," Big Time has a big sound and an even larger presence. Their upbeat tempos and contagious enthusiasm will have you out of your seat and dancing on the lawn before you know it.
You won't want to miss a fun performance by this band!
Who: Jebb Mac Band
When: June 20, 2018
Style: Variety/Country
Biography: The Jebb Mac Band is the perfect way to punctuate a warm Southern beach day of sun-soaked friends and iced-cool drinks. Like a hurricane, they release their energy to a packed crowd at a laid back watering hole, with raucous covers ranging from Johnny Cash to Eminem, and original tunes evoking lazy river days and hot Southern nights.
While the foundation of its sound is country-oriented, the Jebb Mac Band manages to cross over genres by adding elements of funk, hip hop, pop, and rock. Throw in his brass section and it's as if Bruno Mars, the Zac Brown Band, and Thomas Rhett were all part of the same band. Myrtle Beach's Surge calls Jebb Mac Band's live shows "dance-friendly, party-friendly," appealing to "young audiences and young-at-heart fans who crave variety."

Who:& Steve Owens & Summertime Band
When: June 27, 2018
Style: Beach/Variety
Biography: Each member of this band has played with the top bands over the years and have now come together to form "Steve Owens and Summertime"
In 2010 "Greatest Love Ever Known" a single released by Steve Owens reached #3 in the top 40 on the 94.9 "The Surf" charts and finished #10 for the year end charts.
The music is always HOT with Steve Owens and Summertime!
Who: Blue Pickups Band
When: July 4, 2018
Style: Oldies/Country/Rock
Biography: Born in the Carolinas and Nashville Recording Artists are bringing a fresh country rock vibe with a very southern charm with their new CD release Play On.

Visit their website for more information.

Who: Jim Quick & Coastline Band
When: July 11, 2018
Style: Beach/Variety
Biography: Mark Twain once said, "A Southerner talks music." If this is true, Coastline speaks in volumes. An eclectic blend of soul, blues, and rock has produced the sound known as Coastline. From hard driving Carolina back beats, to Georgia southern rock, from Cajun inspired grooves, to Texas and Delta blues; Coastline truly defines the sound of historical Southern music. With finesse, the pure forms of southern music are transformed into a modern contemporary art form.
Who: PaperWork
When: July 18, 2018
Style: Rock/Funk/Dance
Biography: Formed in 2012 by three childhood best friends, PaperWork has been introducing South Carolina to their own brand of futuristic funk at every show. While also paying tribute to some of the greatest artists of all time, the P-Dub has taken their act on the road long drives from their hometown of Myrtle Beach SC. Traveling as far as Philadelphia and Baton Rouge, the band's #1 goal is to get the crowd moving with their passion for music and rhythm wherever they go. Get ready to get down!
Who: Trey Calloway
When: July 25, 2018
Style: Country/Soul/Rock
Biography: Trey Calloway is one of country music's hottest new singer/songwriters, hailing from Cornelius, North Carolina, currently living in Myrtle Beach, South Carolina. Never one to shy away from the mic, he was a seasoned performer by the age of 10. Though Southern and Contemporary Gospel were his first musical fascinations, his own songs, playing guitar, and performing in bars and clubs at the age of 15. He knew, without a doubt, that his musical journey would become his career.
Who: Gary Lowder & Smokin' Hot
When: August 1, 2018
Style: Beach/Variety
Biography: Gary Lowder & Smokin' Hot are known as a Soul, R&B party band based out of North Myrtle Beach , SC. Their musical repertoire covers decades of hits from your favorite artists and genres of music including soul, rhythm & blues, funk, reggae, jazz standards, country, 50, 60's and Carolina Beach Music. In addition of performing some the most current hits that are topping the charts today, the group has had many successful chart topping hits on local radio and internet stations across North and South Carolina , Virginia , Georgia , and Florida. Gary Lowder & SMOKIN' HOT .. are comprised of multi-talented musicians who have come together to produce incredible performances each and every time they take the stage.
Who: Painted Man Band
When: August 8, 2018
Style: Dance/Soul/Rock/Funk
Biography: Five piece band from Myrtle Beach, SC.
Members include:
Dontrell Burgess - Vocals
Vince Peeples- Guitar
Alphonso Montgomery - Keyboards
Curtis McFadden- Drums
Brett Sisson- Bass
Visit their website to learn more!
Who: Tim Clark Band
When: August 15, 2018
Style: Beach/Variety
Biography: Since their inception The Tim Clark Band has been wowing audiences wherever they appear. Not only did they quickly become the top-drawing band in their hometown of Myrtle Beach, SC, but they are also recognized as one of the most popular and versatile bands touring the Southeast.
They are known for adding their own flavor to favorite hits of the 70s, 80s, 90s and today.

Who: Lees Cut Band
When: August 22, 2018
Style: Beach/Variety
Biography: Matt Carswell and Quinn Widerman were introduced by Brian Jones in Wrightsville Beach, NC where the two were connected by music and formed a lasting friendship. Under the tutelage of Jim Quick (Jim Quick & Coastline) the acoustic duo known as Access 29 took the Wilmington, NC and North Myrtle Beach, SC music scene by storm. As they matured in music they formed their own sound bringing in Dante Patterson (Lead Guitar, Bass) and Harper Newber (Drums) forming what we know today as Lees Cut.
Who: Dustin Chapman
When: August 29, 2018
Style: Contemporary Christian/Country
Biography: A voice that was certainly bestowed on him with the heavens above, Dustin Chapman uses his talents to praise God and to uplift others who are fighting their own battles. A mixture of country, gospel, and blues comes together to create his signature soulful southern sound, and this is coupled with his lyrics that are crafted well beyond his 20 years... Lyrics that could make even the hardest of hearts melt and examine a variety of situations taking place in their own lives. Writing about serious topics such as poverty, growing old, faith, and more, Dustin Chapman is showing that life is expelled through the moments when we take the biggest risks and to never truly discredit anyone's ability to win a fight.
Who: Silk Groove
When: September 5, 2018
Style: Motown/Variety/Soul
Biography: Eleven member band from Lexington, NC.
Chris (Silk) Tery - Drums
Erick Mowery - Keyboards
Scott Marvill - Guitarist/Bassist
Nathan Kelly - Bass Player
Brett Sisson - Bass
Robert C. Marion Jr. - Vocals

Tristan LeDerris Smith - Vocals

Jonathan's (JP) Phifer - Vocals

Dustin Jennings - Trumpet

James "Jay3" Pressley - Vocals

Rob Probst - Trumpet, Flugelhorn

We hope this article helps you learn more about the artists performing in this year's Sunset Beach Concert Series. We'll see you on a Wednesday evening soon!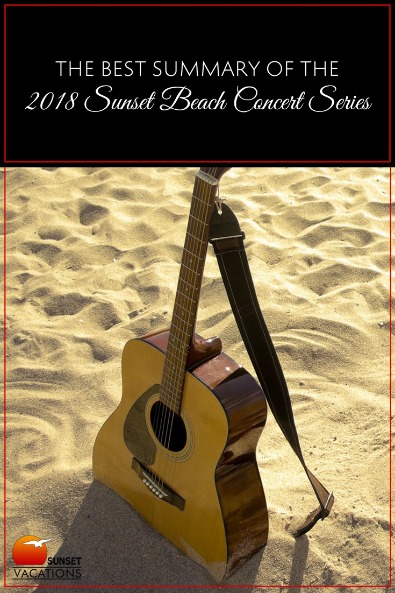 Was this article helpful? Please help us by SHARING it with your friends on social media!
Comment on this post!