---
Learn the Secrets of Peace with These 6 Yoga Studios Near Sunset Beach, NC
Posted On Monday, December 19, 2022
---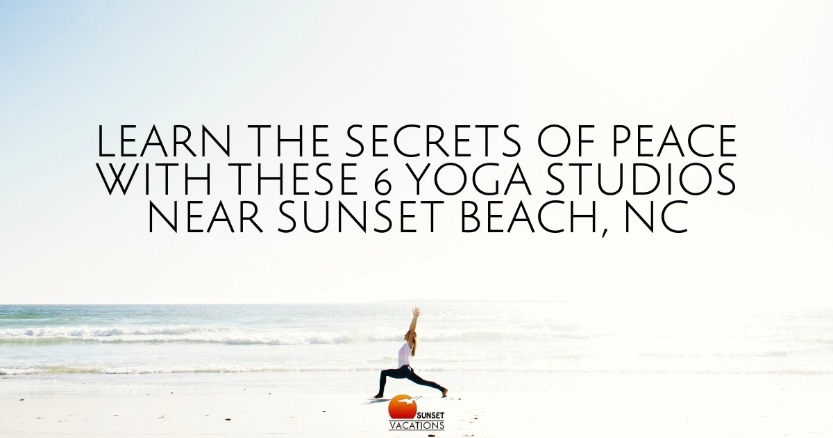 The 6 Best Yoga Studios Near Sunset Beach
Want to shake off the holiday stress and any wintertime blues? Check out these perfect places around Sunset Beach where you can take a yoga or tai chi class to help you learn how to recenter yourself, breathe to relieve stress, and enjoy gently working stress out of your body. Your well-being will skyrocket if you can even join in a session one time a week.
But you may love this so much you want to go every day! If you're renting a house on Sunset Beach, this is a great way to wake up every morning and get your day started strong!
Om Sweet Om Yoga and Fitness Studio
772 Magnolia Drive
Sunset Beach, NC
If you truly want to learn the secrets of peace through yoga, the owner and instructor Nicole Depauw will teach those who are ready to learn. With years of sincere dedication and study to body health and wellness, she will help you learn to adopt yoga as a mindset and not just a series of movements to run your body through mindlessly. True health and wellness come with connecting mindfully to our bodies and life. These valuable lessons will not only promote peace in your life, but they will also teach you how to see life in a more mindful, purposeful, and peaceful way. A thing we all have to practice every day!
Body Edge Fitness
6741 Beach Drive SW
Ocean Isle Beach, NC 28469
This gym offers a full line of classes for different kinds of fitness, including yoga. On Mondays and Wednesdays, you can join their Yoga Strength & Stability class at 10 am. Fridays, they offer Gentle Yoga at 10 am. And on Saturdays, they have Yoga Stretch. All yoga classes are 60 minutes long. For more information, check out their website.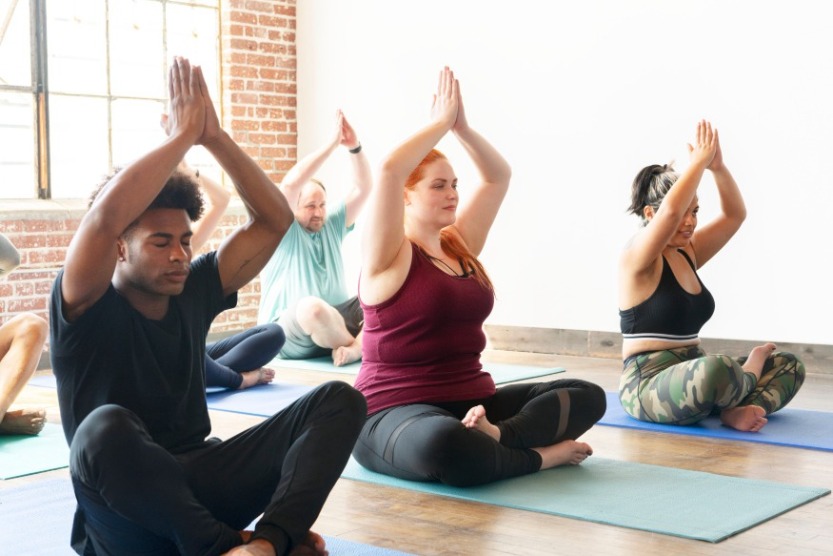 Movement Works
9500 Ocean Highway West
Calabash, NC 28467
Modern yoga for all ages, this studio promotes both the benefits of moving the body and stilling it. They offer a variety of fitness classes, including but not limited to martial arts, Pilates, sound bathing, Zumba, and more. Their yoga classes include aerial yoga, restorative yoga, Vinyasa, and more. It is a great studio for families who want to go to the same gym but might join different classes.
KISS Yoga
6810-E Beach Dr (Sands Plaza)
Ocean Isle Beach, NC
(Also serves Sunset Beach, NC)
This yoga studio was built on the foundation of staying healthy and fit, but also as a way of life. The studio and its members encourage each other to connect with others from a place of love, kindness, and compassion for others.
They offer core strengthening yoga, gentle yoga, and Hatha yoga, which focuses on alignment with calmness in your mind and throughout your body. Restorative yoga, Gentle Stretch and Meditation, Slow Flow, Vinyasa, and Yogastha Sadhana are other classes they have. Check their website for the full list.
OIB Massage
6741a Beach Drive Southwest
Ocean Isle Beach, NC 28469
If you need therapeutic yoga, OIB Massage offers treatments to help you heal. Their yoga and massage therapy uses a mix of methods to promote the most healing in the way your body needs. If you need more guidance and healing to help your body loosen up and relax, this is a great place to start.
Edison's Smart Fitness
1424 Hwy 17 N Unit 1
North Myrtle Beach, SC 29582
Work out any time of day or night in this 24-hour gym. They provide cardio, weight training, and yoga. Their Gentle Yoga class is designed to connect you with your body through slow movements and breathwork.
It helps to promote relaxation, rest, digestion, flexibility, and many other health benefits that ultimately bring you peace and contentment. Beginners and seasoned yogis are encouraged to join!
Yoga On the Beach or Ocean Isle Beach Yoga
In the summer months, you can join Yoga on the Beach at the west end of 40th St. Boardwalk, Sunset Beach, NC. Classes are $10 each and taught by Kelly Sexton as weather permits. Follower her Facebook page to stay updated on when her next class is!
If you can't decide which yoga studio you want to try, consider trying a different one each day and then compare! It is a great mindful activity for your whole family to learn how to cope with and manage stress appropriately.
These benefits carry over to our overall well-being and can contribute to building healthier social skills for more solid relationships with those we love! Add yoga to your routine and find your favorite location near your next beach vacation rental so you don't have to miss a day on your holiday!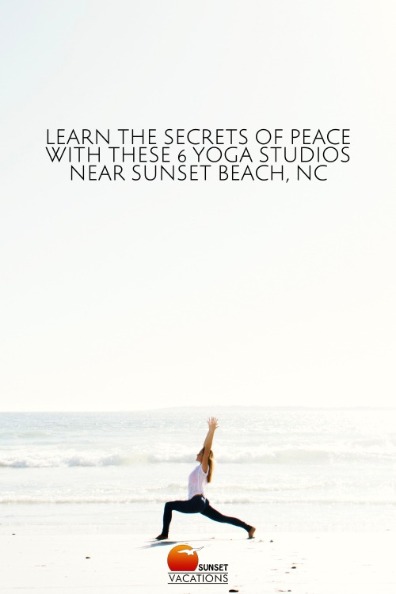 Want more great self-care ideas? Check out these beauty salons!
8 Gorgeous Beauty Salons Near Sunset Beach.
Comment on this post!