---
How to Build a Beach First Aid Kit
Posted On Monday, March 28, 2022
---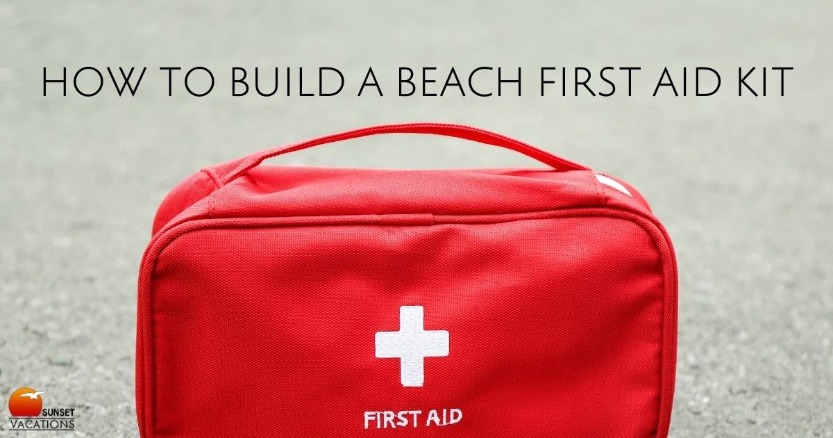 Sunscreen ✔ Towel ✔ Snacks ✔ Drinks ✔ First Aid Kit? Hmmm.....
Yep! You need to think about packing a First Aid Kit in your beach bag. When you spend the day at the beach, it's important to be prepared. Just a few simple items will give you peace of mind so you can relax and enjoy your time in the sand and surf.
Here are the items you should pack in your beach first aid kit:
Waterproof Band Aids

Antiseptic (like Hydrogen Peroxide)

Sterile Gauze Pads

Disposable Gloves

Medical Tape

Ibuprofen / Acetaminophen

Antihistamine (Benedryl)

Tweezers

Eye Drops or Saline Solution

Small Scissors

Cold Packs

Small bottle of vinegar

Aloe Vera

Hand Sanitizer
⚠️ Don't forget to store it in a waterproof container.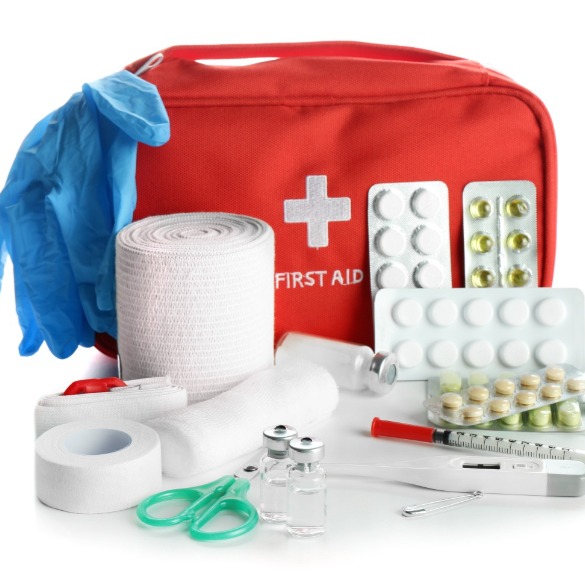 Some of the items above may seem a little strange. But, when you are on the beach, strange things might happen! Here are a few scenarios you might experience. You will be glad you have a first aid kit at the ready.
Seashells are sharp! Your little one stepped on a shell and is now bleeding. Time to rinse the cut with some antiseptic and bandage him up.
You have sand and salt water in your eyes from hours of boogie boarding. Rinse your eyes and find relief using some saline solution or soothing eye drops.
While jellyfish stings are rare, they do happen. If you find yourself with a sting, pluck the tentacles out with your tweezers. Use protective gloves! Then, rinse the site with vinegar to neutralize the reaction. Finally, it's best to get back to the vacation rental for some rest. Consult a doctor if necessary.
Sunburns happen. Keep some aloe in your cooler for tender skin, and take some ibuprofen or Tylenol.
Someone in your group is showing signs of an allergic reaction (to a food, insect sting, etc.). An antihistamine is the first step to stopping the reaction in its tracks. Consult a doctor.
You rolled your ankle in the deep sand while playing frisbee. Or, your son seems to be overheating. Instant gel cold packs can be a real lifesaver.
How to Prevent & Handle Common Beach Emergencies
We wrote a blog about how to actually prevent several of the emergencies listed above. Learn all about jellyfish stings, rip currents, sunburn and more.
Read the blog here.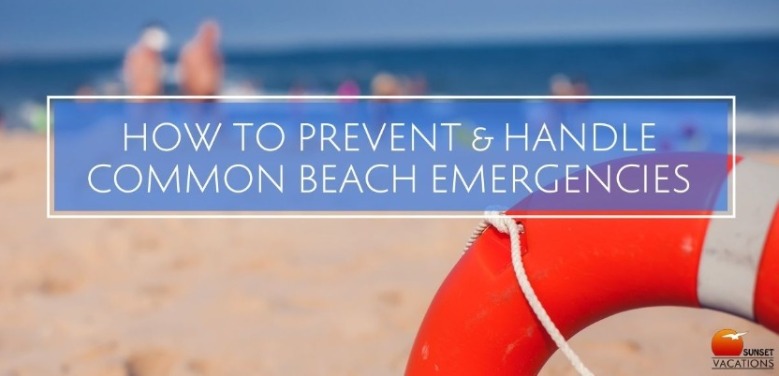 Packing the Perfect Beach Bag in 5 Easy Steps
Now that you know what to include in a first aid kit, you can pack the rest of the beach bag. This blog gives great tips about what to include, and how to get your stuff to the beach easily and efficiently.
Read the blog here.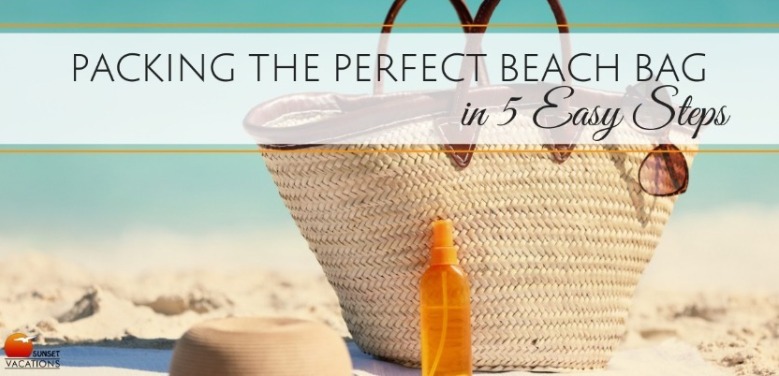 It's time to book a trip to the beach! Sunset Beach is a safe, friendly place to bring your family or friends. We hope to see you hanging out on our beaches soon!
Comment on this post!