---
7 Things Your Kids Will Love to Do on Your Sunset Beach Vacation
Posted On Monday, August 14, 2023
---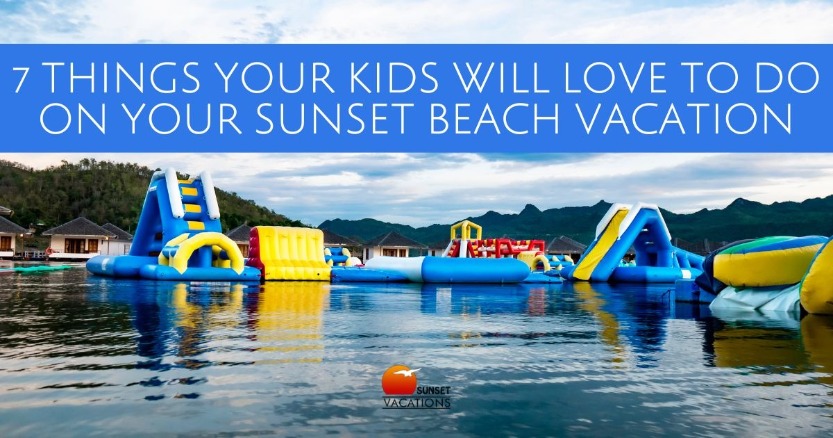 Are you looking for exciting things to do with your kids for the perfect family beach vacation in Sunset Beach? North Myrtle Beach is just minutes away, where you can enjoy endless activities all holiday long! From reptiles to arcades to thrilling water sports, there are plenty of fun things to do. In this blog, we'll get you started with seven we think you'll love! And you can rent a beautiful and spacious vacation rental on Sunset Beach and enjoy the amazing island! Have the perfect place to come home to every day of your vacation where you can relax in peace!
Get Up Close and Personal with Reptiles at Alligator Adventure
A top attraction for animal lovers is AlligatorAdventure, home to hundreds of alligators and other reptiles, birds, and mammals. You can get up close at daily feedings with the alligators and educational shows. Watch in amazement as massive alligators leap out of the water to catch their food! The Reptile Lagoon even allows kids to touch and hold baby alligators, an experience they'll never forget. With reptile exhibits and habitats from around the world, it's a one-of-a-kind adventure.
Satisfy Your Sweet Tooth at The Crazy Mason Milkshake Bar
At The Crazy Mason Milkshake Bar, satisfy your sweet tooth with monstrous milkshakes piled high with toppings. Or try their equally decadent gelato flavors. With creations like Don't' Worry Beach Happy, Crazy Colada, and more. Kids and adults will love the whimsical treats, flavors, and toppings.
Enjoy Classic Arcade Games at Lulu's Beach Arcade
Lulu's Beach Arcade offers a classic arcade with various games and activities for kids of all ages. It's a great place to spend a rainy day or a hot afternoon. Get your fill of skeeball, pinball, claw machines, and other familiar favorites. But they also have a ropes course and other fun interactive games kids love!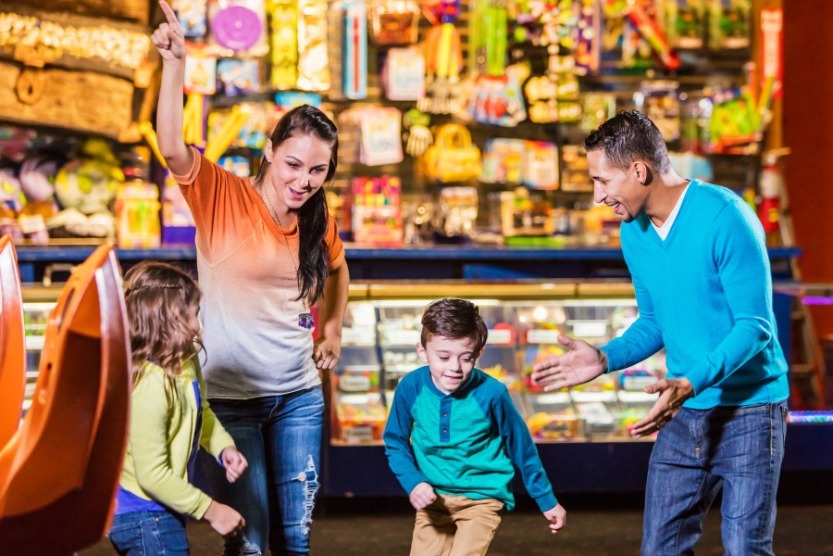 Make a Splash with Watersports
Looking for water fun? Aloha Watersports offers parasailing, jet skiing, and banana boat rides. Glide high above the ocean on an exhilarating parasailing adventure, speed across the water on a jet ski, or jump on a banana boat for hilarious fun! The whole family will love spending the day doing these exciting water adventures.
Wakeboard, Kneeboard, and More at Shark Wake Park
Try kneeboarding or wakeboarding at Shark Wake Park for even more water excitement. Get pulled on a thrilling ride behind a specialized cable system that spans an entire lake. This cable wakeboarding park is a unique and exciting way to spend the day. Kids can learn to wakeboard or watch the pros do their tricks.
However, there is also a huge Obstacle Island for anyone who would rather jump, slide, and splash around on inflatables in the water. Spend the entire day at one of the biggest outdoor family-friend entertainment centers around!
Go Horseback Riding Through Beautiful Scenery
At Inlet Point Plantation Stables, take a trail ride on horseback through beautiful marshes and woodlands. Led by experienced guides, you'll get to sit back and enjoy the scenery on a majestic horse. It's a relaxing outdoor adventure the whole family will love and a great activity for kids who love animals.
Marvel at the Alabama Theater
The Alabama Theater offers a variety of live shows that include music, dance, and comedy. These shows are designed to entertain audiences of all ages and provide a memorable experience for families visiting North Myrtle Beach. The theatre is highly regarded by both locals and visitors.
With so many exciting things to do in North Myrtle Beach, you will surely have a fun and memorable family vacation. And when you're ready to relax and head back to your beach house, consider renting on Sunset Beach. Enjoy one of the most beautiful beaches and the peaceful atmosphere of a laid-back rural coastal town. Our beach rentals are spacious, comfortable, and just minutes from all the fun activities in North Myrtle Beach. Book now and start planning your dream family vacation today!
Comment on this post!