---
7 Simple and Affordable Ways to Have an Unforgettable Fall Beach Wedding
Posted On Monday, October 2, 2023
---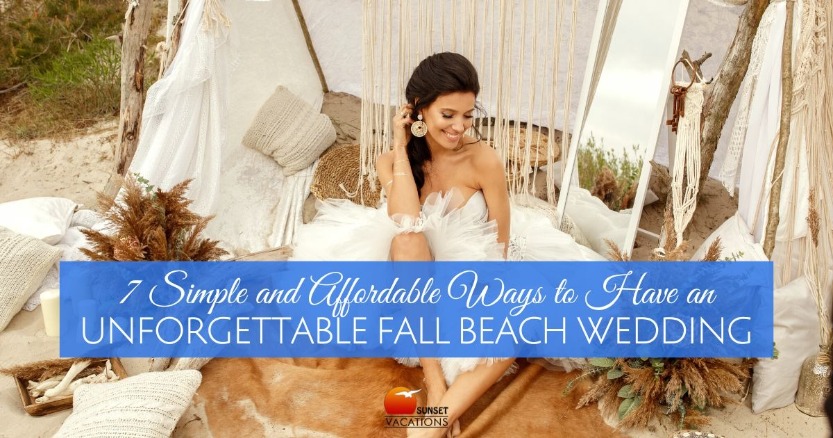 Fall is a magical season to tie the knot, especially when the venue is the picturesque Sunset Beach in North Carolina. The golden hues of the season, paired with the serene backdrop of the beach, create a heavenly setting for your special day. As you plan this joyous occasion, consider a beach house rental that will add a touch of comfort and luxury to your celebration. Here, we share simple and affordable tips to make your fall wedding unforgettable.
Embrace the Natural Beauty
Sunset Beach is endowed with a natural beauty that requires little embellishment. Utilize the golden sands and the vibrant fall foliage as your canvas. Here's how:
Beach Florals: Opt for seasonal blooms that are readily available during fall. Goldenrods, asters, and chrysanthemums can add a vibrant touch to your wedding décor. Consider creating a floral arch with these blooms as a beautiful backdrop for your vows.
Driftwood Centerpieces: Collect driftwood and adorn it with candles and flowers to create rustic centerpieces that evoke the spirit of the beach. You can also use seashells and starfish to add a nautical touch to your table settings.
Golden Hour Photoshoot
Just before sunset, the golden hour offers the most beautiful light for photography. Capture your magical moments with these tips:
Pre-Wedding Shoot: Schedule a pre-wedding photoshoot during the golden hour to capture the best natural light. Consider bringing in a local photographer who knows all the best spots for the most breathtaking shots.
Candid Moments: Capture candid moments with your loved ones as the sun sets, creating warm and golden memories. Encourage guests to take photos to compile into a beautiful guest photo album.
Comfort is Key
Make sure your guests are comfortable throughout the event with these thoughtful touches:
Warm Blankets: As the temperature drops in the evening, offer warm blankets to your guests. You might even personalize them as keepsakes from your special day.
Flip-Flops: Provide flip-flops for guests to enjoy the beach setting in comfort. Consider setting up a station where guests can customize their flip-flops with beads and ribbons.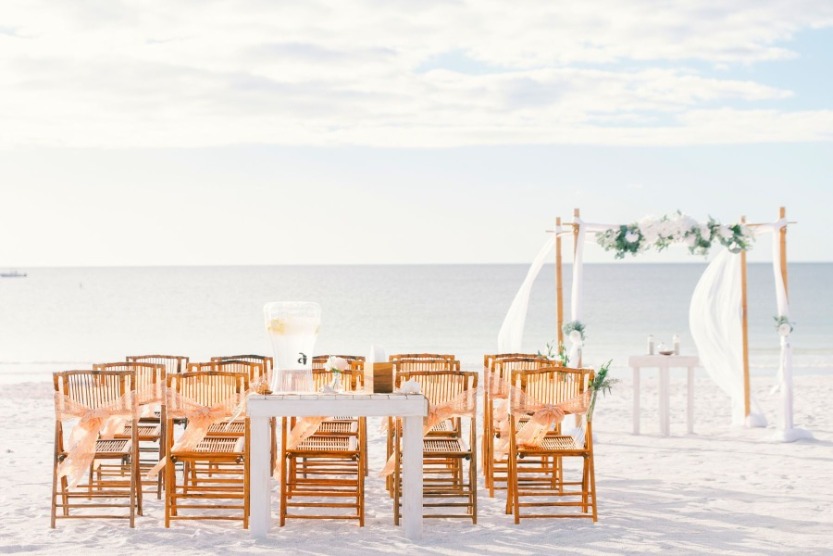 Eco-Friendly Choices
Make your wedding environment-friendly with these simple steps:
Reusable Décor: Opt for reusable décor items such as fabric bunting and wooden signs. Encourage guests to take home pieces of décor as souvenirs of the day.
Digital Invitations: Send out digital invitations to save on paper and postage. You can make your digital invitations interactive with links to your wedding website or a playlist of songs to get them excited for the celebration.
Local Delicacies
Treat your guests to a feast of local delicacies that are both affordable and delicious. Consider these options:
Seafood Bar: Set up a seafood bar with local catches of the day. Offer a variety of sauces and sides for a customizable dining experience.
Farm-to-Table: Collaborate with local farmers to create a fresh and organic menu. Consider hosting a potluck-style reception where family and friends can contribute dishes made with love.
DIY Entertainment
Save on entertainment costs with these DIY options:
Lantern Release: As the night falls, gather your guests for a lantern release. Provide everyone with a lantern to write their wishes for the couple, creating a magical and luminous spectacle as they ascend into the sky. Ensure to use eco-friendly lanterns to protect the beautiful Sunset Beach environment.
Playlist: Create a playlist of your favorite songs and set up a sound system for a personal touch to the music. Invite guests to request songs in advance to create a playlist that everyone will enjoy.
Personal Touches
Add personal touches to make your wedding truly unforgettable:
Handwritten Notes: Write handwritten notes to your guests expressing gratitude for their presence. Place these notes at each guest's seat for a heartfelt surprise.
Photo Booth: Set up a photo booth with props for guests to take fun pictures and create lasting memories. Consider providing props that align with a fall beach theme, such as straw hats and sunglasses.
An unforgettable fall wedding at Sunset Beach, NC, doesn't have to break the bank. You can create a day filled with beautiful moments and warm memories with simple and affordable ideas. Embrace the beach's natural beauty, prioritize comfort, and add personal touches to make your wedding a day to remember.
And to make your wedding even more memorable, consider renting a beach house on Sunset Beach. Not only can you have all the comforts of home with the spaciousness, a fully equipped kitchen, and many other comforts of home, but you also can use a vacation rental for your wedding! It can help you accommodate guests, serve as a reception venue, and more. Browse our rentals and contact us if you have any questions!
Get more romantic things to do on Sunset Beach!
10 Ways to Celebrate Fall Romance on Sunset Beach, NC.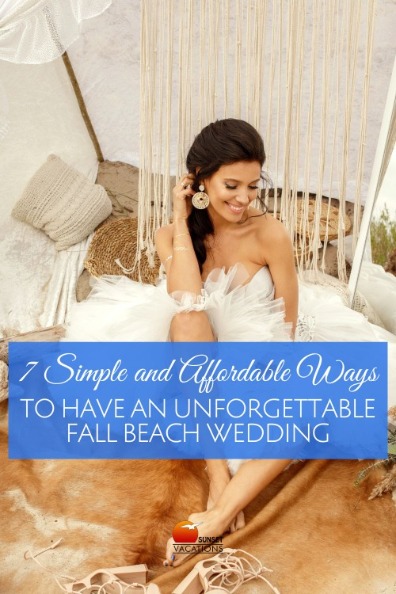 Comment on this post!