---
6 Fun Things to Do on Your Summer Vacation to Sunset Beach, NC
Posted On Monday, May 8, 2023
---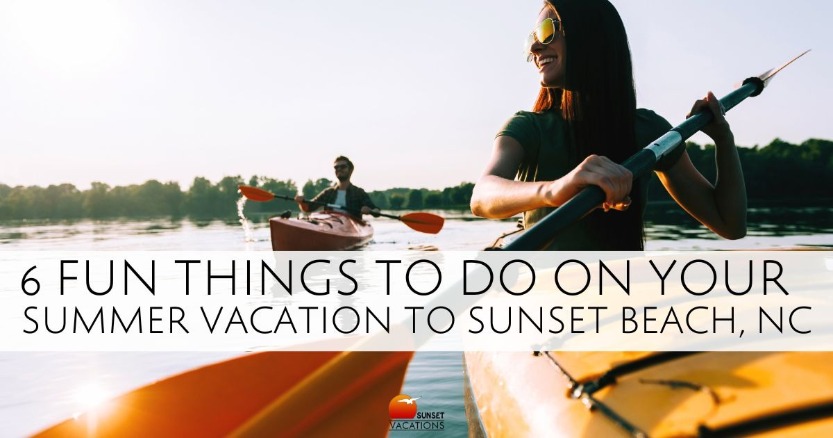 Are you preparing for your summer beach vacation and thinking about things to do? Sunset Beach, NC, has endless fun for you and your family, keeping you busy all vacation long. If you want more ideas for your vacation itinerary, this blog is for you. From hanging out on the beach to golf, here are fun things to do on or near Sunset Beach, including fund things to do if you just want to relax for a day in your vacation rental!
1. Soak up the Sun on the Beach
Sunset Beach is well-known for its gorgeous coastline, making it the perfect place to sunbathe, swim, and relax. Grab a beach towel, a good book, and spend the day soaking up the sun. If you're on a family vacation, get some beach games and have fun playing games at the beach!
2. Go Fishing on the Sunset Beach Pier
The Sunset Beach Pier is a popular spot for fishing, with plenty of space for anglers to cast their lines and catch many kinds of fish. It is also a wonderful place to watch a sunset or gaze out at the vastness of the beautiful ocean.
3. Explore the Marshes and Waterways
The marshes and waterways surrounding Sunset Beach are teeming with wildlife and natural beauty, making them the perfect place for kayaking or stand-up paddleboarding. These are great ways to explore! Sunset Beach Town Park at 206 Sunset Beach Boulevard North is a great place to go. It has a boat ramp to launch small watercraft, and you can fish and explore the Intracoastal Waterway (ICW) while enjoying nature and the views.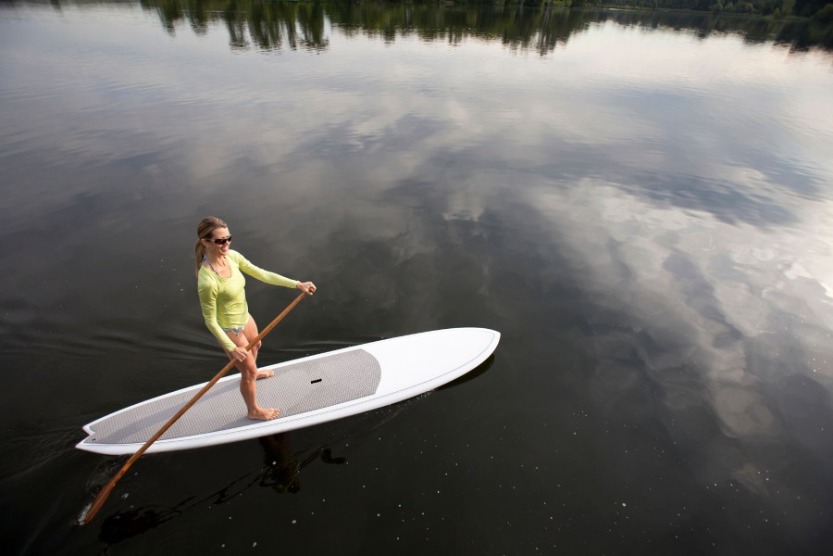 4. Tee Off on a Championship Golf Course
Sunset Beach has some of the best places to golf on the east coast, with several championship golf courses, including the award-winning Oyster Bay Golf Links and Sea Trail Golf Resort. Spend a day golfing on the greens and enjoy the beautiful views of the ocean and surrounding marshes. Thistle Golf Club, the Pearl Golf Course, and Big Cats Golf Links are other superb courses.
5. Learn About Sea Turtles
Turtle Time, which starts in June and runs during the summer months, is the Sunset Beach Turtle Patrol's educational program where you can learn about the nesting and hatching of loggerhead sea turtles, plus other important information about sea turtles. Learn more about these fascinating marine animals, their role in the local ecosystem, and how they need our help!
6. Spend a Day Just Hanging Out
Sometimes vacations can feel like a lot of work if you accidentally over-plan and run around doing too much. It can be nice to take at least one day, if not a couple, depending on how long your stay is, and relax around the house. It works exceptionally well with a vacation rental because you'll have a lot of space. Spend time napping, reading, doing a favorite hobby like writing or painting, or playing board games with your family, and enjoy the fresh atmosphere of being at the beach.
This list is just a few of the many things to do on a summer vacation to Sunset Beach, NC. There are many other places to explore and things to do, making it worth spending a vacation here. Many visitors come back year after year because they love the laid-back vibe of Sunset Beach. Plus, many celebrations, live music, 4th of July festivals, and more are happening throughout the summer, so keep checking our blog for more things to do!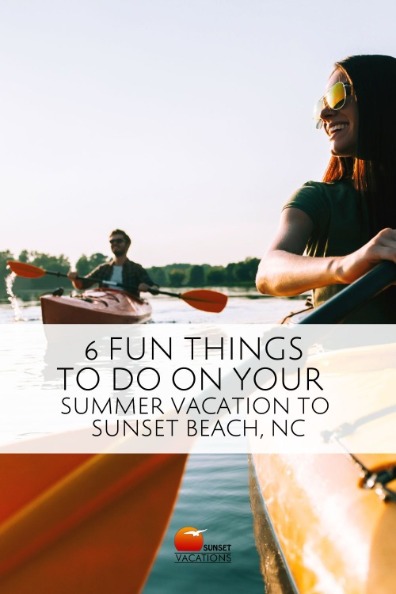 Looking for an amazing place to stay for your beach vacation?
Check out our vacation rental specials and book your stay today!
Comment on this post!