---
3 Perfect Places to Rent for Thanksgiving
Posted On Monday, October 31, 2022
---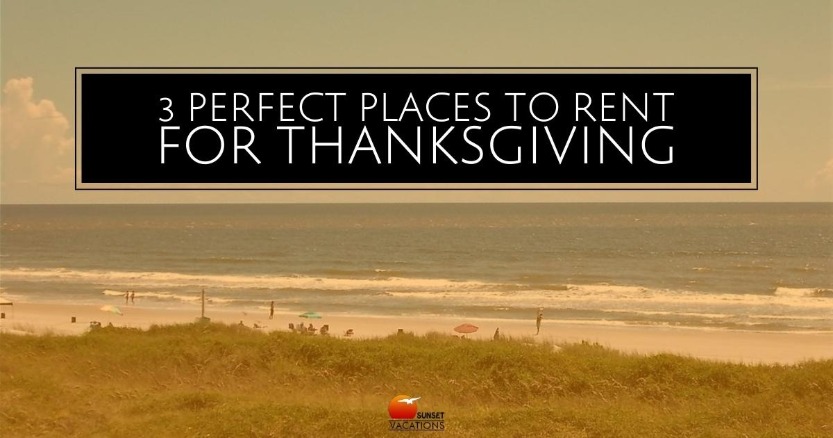 Best Places to Stay in Sunset Beach for Thanksgiving Week
Sometimes a great thing to do for the holidays is to spontaneously pack your family up and take a much-needed vacation to the beach. And what better time to do this than the holiday season which can get so overwhelming. We understand! A quiet getaway to the beach can be so relaxing and stress-relieving that it just may be the thing everyone needs.
We've done a little searching and found these three gorgeous vacation rental properties still available where you can have a real home away from home to celebrate the holiday with your family. Make a home-cooked meal, enjoy some nature for a change this year, and get some amazing downtime that will make life feel more invigorating again.
Check out these amazing places for an amazing holiday stay!
1610-A East Main Street
Sunset Beach, NC 28468
This beautiful privately owned duplex sits at the east end of the island with amazing views of the Atlantic Ocean. It sleeps up to 10 people with four bedrooms and three bathrooms. The open floor plan and plenty of seating give enough space for everyone.
The spacious kitchen has a microwave, dishwasher, coffee maker, and plenty of space to make a feast. The grocery store Food Lion is just minutes away making shopping and cooking your holiday meal super simple. You'll also have access to a washer and dryer, five color cable TVs, three DVD players, and WIFI if you want to add holiday-themed movies or music. Central heat and air with ceiling fans keep temperatures where you like them.
For your outdoor adventures, there is an outside shower, a fish sink, a sundeck, and a covered porch. Just a short walk away you can enjoy the beautiful beach and refreshing ocean air.
If you would like to learn more be sure to check out the listing for the full details on Fantasea! It's still available for Thanksgiving week and makes a perfect family holiday vacation gift!
1710-A East Main Street
Sunset Beach, NC 28468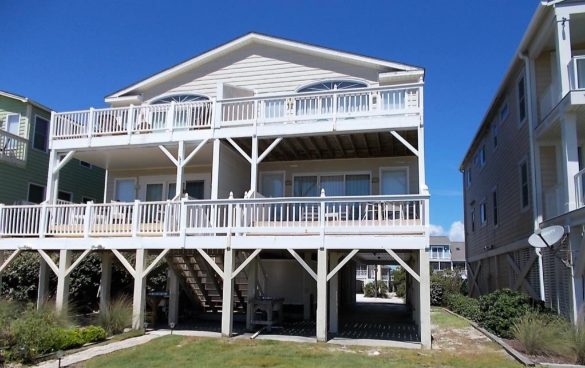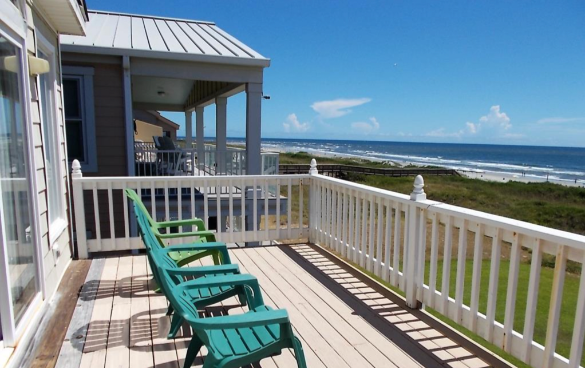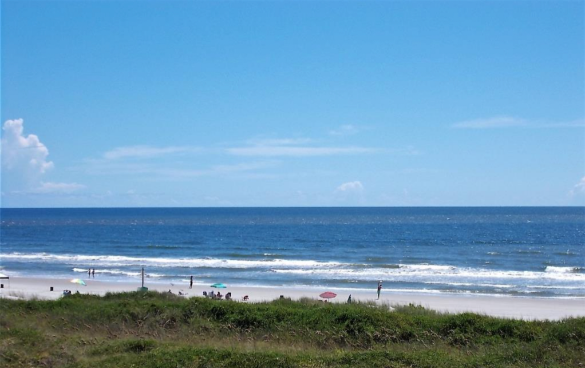 An oceanfront duplex that also sits on the east side of the island, you get beautiful views of the Atlantic Ocean with this property too. It also sleeps 10 people and has four bathrooms so you can easily bring all your family members and maybe even some friends for the Thanksgiving holiday week!
Sea La Vie also has a full kitchen with a microwave, coffee pot, toaster, blender, dishwasher, central heat and air, ceiling fans, WIFI, and four-color cable TVs. Check the listing to see a full list of all the other amenities available.
The spacious kitchen and floorplan with plenty of seating gives plenty of seating for everyone to enjoy wonderful meals together, or lounge around and take naps after all that turkey and mashed potatoes!
With the beach just a short jaunt away, exterior amenities include a sundeck, covered porch, fish sink, and an outdoor shower to make all your outdoor adventures more fun and convenient. Maybe even make a quick run to the Island Market and pick up some refreshing drinks to enjoy out on the deck.
If you'd like more information about this beachfront rental property, be sure to check out the listing for Sea La Vie to get details about this beautiful location and start planning a holiday getaway today!
508 East Main Street
Sunset Beach, NC 28468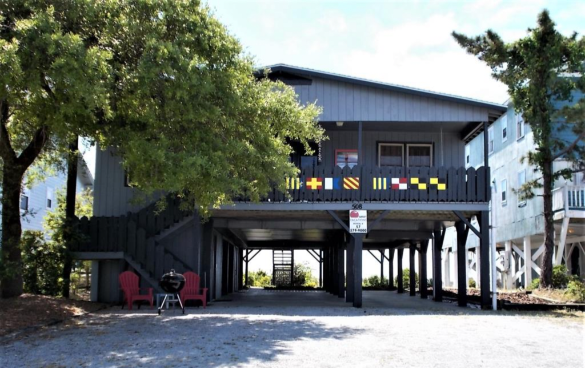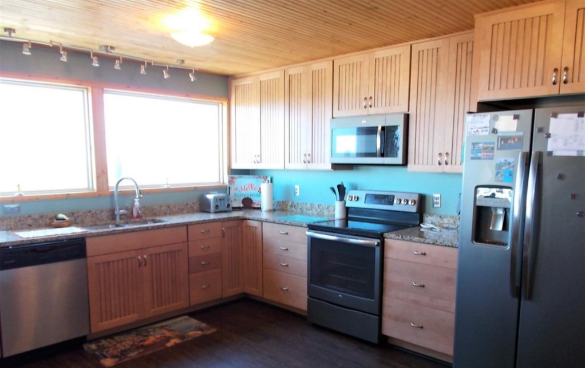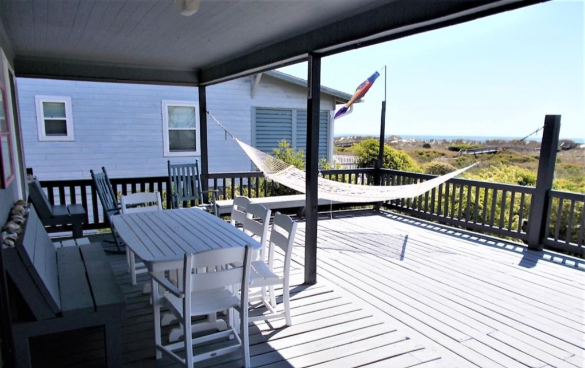 This recently updated gorgeous single-family home is the perfect rental for Thanksgiving week with its amazing fully furnished kitchen and large picture windows that look out towards the Atlantic Ocean. Enjoy updated granite countertops, bead-board cabinets, plank floors, and shiplap ceilings.
The large sturdy farm table seats 12 people for an amazing way to gather around and spend quality time together whether over a delicious meal or with fun family games. Additionally, the living room is perfect for another area of family gathering for socializing and games, perfect for bonding over the holidays. But the dining room also offers yet another place to gather and eat making this rental home truly perfect for a big holiday meal. You'll never run out of seats.
All the bedrooms have comfortable beds, some with a lighthearted setup, colorful styles, and plenty of space to settle in for the week. Amenities include a large capacity washer and dryer, central heat and air, two Smart color cable TVs with streaming capabilities, a DVD player, and WIFI.
Outside, you have your choice of sundecks, covered porches, and even a hammock to relax in. The public access walkway to the beach is right off to the side of the home making it super easy to get to the beach or the Sunset Beach fishing pier. When you return, there is an outside shower if you need to wash off all that sand!
If you're excited to learn more about the amenities and see more pictures, check out the full listing for Gray Gull and start planning your Thanksgiving holiday. You can even book immediately if you're ready to have an adventure!
Enjoy the Thanksgiving Holiday
We hope you find something enjoyable to do this Thanksgiving holiday with your family. Make beautiful memories in a home away from home on Sunset Beach this year and create great opportunities to spend quality time with those you love the most in your life.
If you need any help planning your holiday, please contact us and we'd be happy to answer any questions about our beach rental properties or help you find out more about the Sunset Beach area to make your visit amazing and memorable.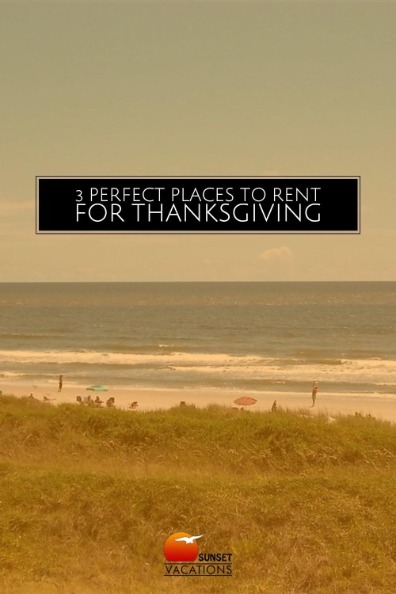 Want ideas for things to do on vacation?
Check out this list of fun fall things to do on or around Sunset Beach this year!
Comment on this post!