---
10 Fabulous Autumn Quotes to Get You Dreaming About a Beach Vacation
Posted On Monday, September 4, 2023
---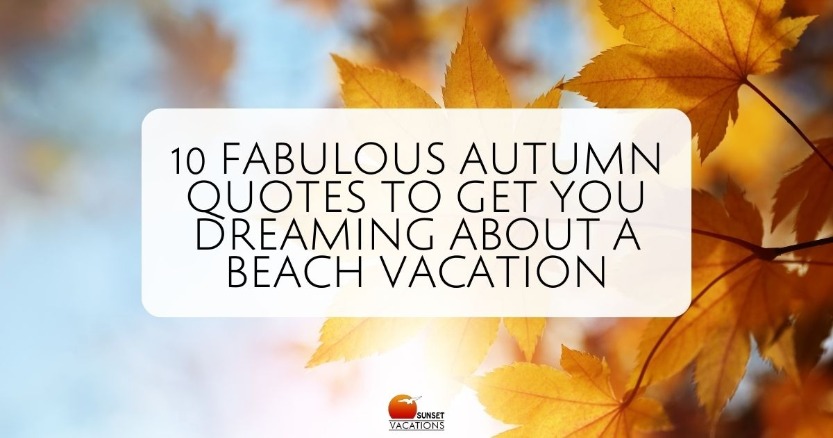 Summer is one of the most favorite times of the year for travelers visiting coastal towns for beach vacations. However, fall is another fantastic time to visit with its beautiful fall foliage colors, cooler days, and quieter beaches. It's the perfect time to visit for families who love the serenity of the season! Check out these ten quotes about the beauty of fall and contemplate them over your favorite drink, or take them with you to your beach house to enjoy each day!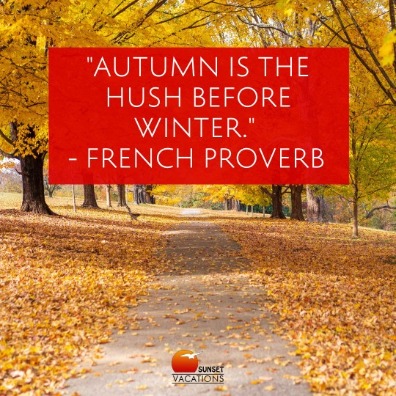 "Autumn is the hush before winter." - French Proverb
The beach in autumn is a world of calm. Gone are the lively summer crowds, replaced by a tranquil stillness. It's a time when the waves seem to whisper, and the horizon invites contemplation. This serene backdrop is perfect for those seeking a quiet retreat, a momentary pause before winter's embrace.


"Autumn carries more gold in its pocket than all the other seasons." - Jim Bishop
Fall is a season of richness. The trees change into vibrant shades of gold, orange, and red. Every leaf that falls to the ground is like a golden coin, making the world look like a treasure chest. It's a time when nature shares its wealth with everyone, making each day feel precious.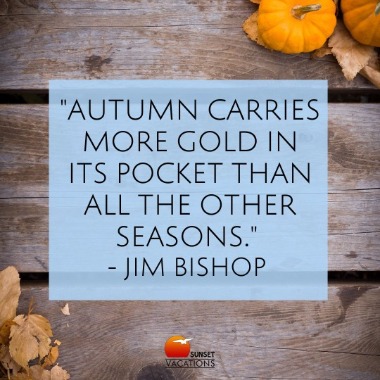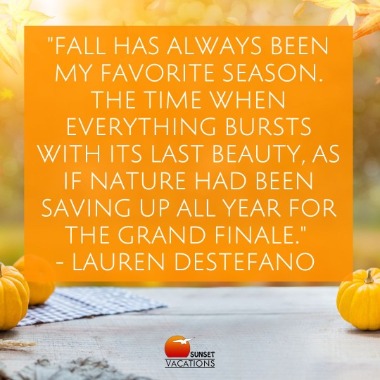 "Fall has always been my favorite season. The time when everything bursts with its last beauty, as if nature had been saving up all year for the grand finale." - Lauren DeStefano
Imagine nature as an artist, and fall is its masterpiece. Trees and plants put on their best show, displaying brilliant colors. It's as if they've been preparing all year for this final performance, making sure it's the most memorable one.


"Winter is an etching, spring a watercolor, summer an oil painting, and autumn a mosaic of them all." - Stanley Horowitz
Autumn is a mesmerizing blend of the year's best moments. The coolness of winter's breeze, the freshness of spring's bloom, and the warmth of summer's sun all converge, creating a unique mosaic that's both vibrant and soothing.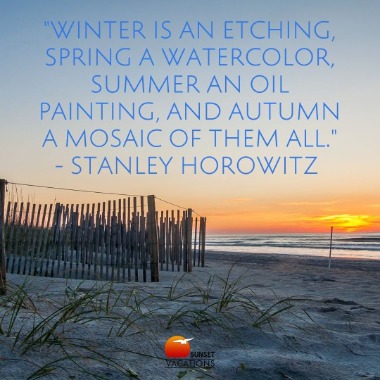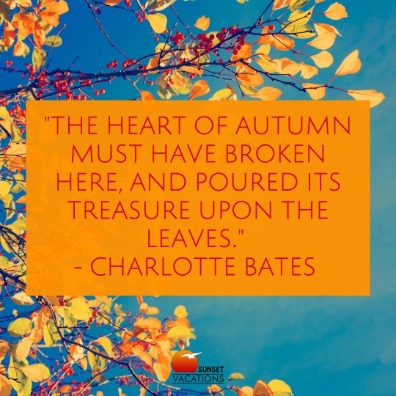 "The heart of autumn must have broken here, and poured its treasure upon the leaves." - Charlotte Bates
The beach, with its sprawling sands and endless waters, seems to be autumn's chosen canvas. Every leaf that falls, every wave that crashes, feels like a piece of art, a testament to the season's splendor. It's a time of reflection, of finding treasures in the simplest of moments.


"Autumn is the mellower season, and what we lose in flowers we more than gain in fruits." - Samuel Butler
As the floral blooms of summer fade, the beach in autumn offers a different kind of bounty. The fruits of reflection, the joy of tranquility, and the richness of quiet moments. It's a season that reminds us to savor life's deeper gifts.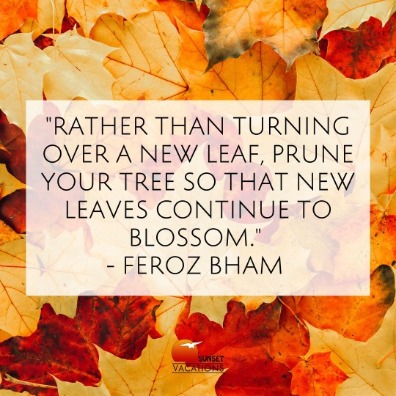 "Rather than turning over a new leaf, prune your tree so that new leaves continue to blossom." - Feroz Bham
Much like the trees that shed their leaves in preparation for new growth, autumn at the beach is a reminder to let go of the old and make space for the new. It's a time for renewal, setting new intentions, and embracing change with open arms.


"Autumn wins you best by this its mute appeal to sympathy for its decay." - Robert Browning
There's a quiet beauty in the way fall presents itself. Even as leaves decay and days grow shorter, there's a charm in the cycle of life. It's a season that teaches us to find beauty in every phase, even in endings.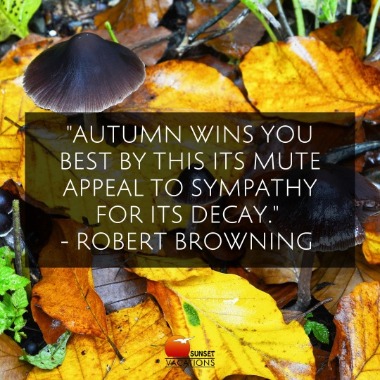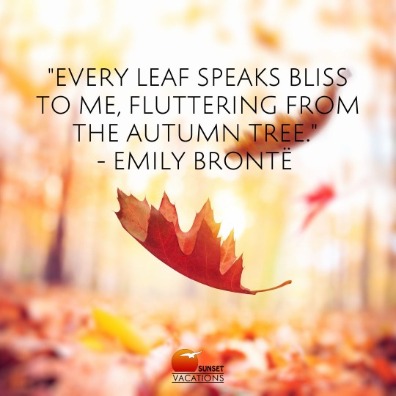 "Every leaf speaks bliss to me, fluttering from the autumn tree." - Emily Brontë
Each leaf that falls on the beach tells a story of joy, of seasons passed, and of moments cherished. The rustling leaves, the cool sand beneath the feet, and the rhythmic sound of the waves create a symphony of bliss, inviting everyone to join in the dance of the season.


"Autumn is the season to find contentment at home by paying attention to what we already have." - Unknown
The beach in autumn feels like home. It's a place of contentment, where the heart finds peace, and the soul rejoices. Amidst the ocean's vastness and the changing leaves' beauty, we're reminded to cherish the present and find joy in the little things.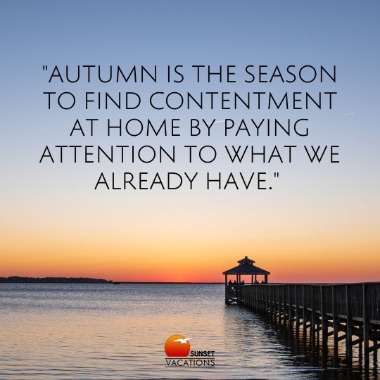 If you're looking for the perfect beach house to spend your fall vacation with your family, look no further. We have the perfect places for your home away from home. Browse our vacation properties, find your favorite, and plan your fall getaway today!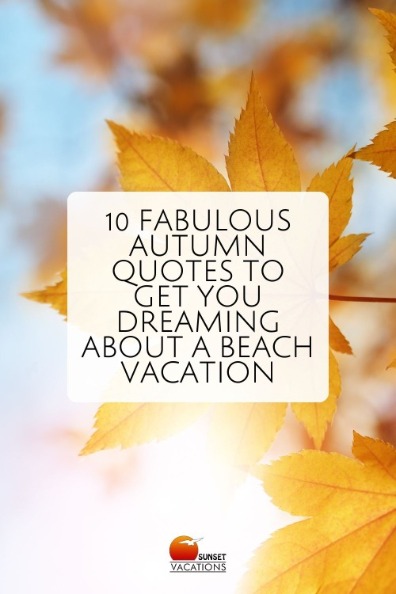 Thinking about a fall vacation? check out how to have fun and save on your vacation!
Vacation on Sunset Beach, NC: How to Save Money and Maximize Fun.
Comment on this post!