---
Great Fall Fishing Tips for Sunset Beach
Posted On Monday, September 5, 2022
---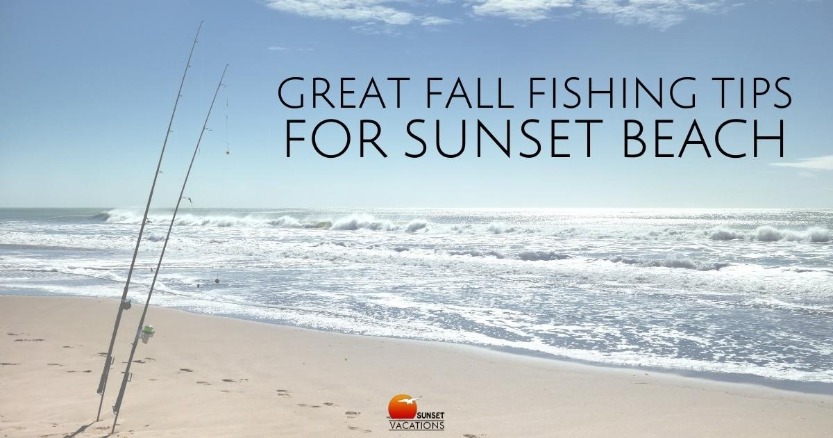 Fishing on Sunset Beach
Fall is almost here and it's time to start thinking about the end of summer days. But don't worry, there is still plenty of ways to relax and enjoy that breezy ocean air. Fishing is a favorite among locals so here are some great fall fishing tips for beginners and pros alike!
Don't forget with Fall comes some great seasonal specials on vacation rentals. You can check out our rental specials and see the great offers for Fall 2022.
Types of fish you can catch
If you're a seasoned fisher, you already know that learning what types of fish you're fishing for is the best way of understanding what kind of bait and hooks you need to catch them! In the Sunset Beach area, you will find all kinds of great fish species to lure.
Flounder, different kinds of bass, Spanish, different kinds of trout, Whiting, walleye, seatrout, redfish, and even bigger species like chase tuna and swordfish can all be found around the waters of Sunset Beach. This is just the short list of many kinds of fish you can try to catch.
For more information and to figure out what gear to get, we recommend visiting The Bait & Tackle Shop located right on the Sunset Beach Pier. Their knowledgeable staff will help you find everything you need and exactly what you're looking for to have the best day fishing!
They also feature this nifty live beach web cam so you can check out the conditions at any time of day you like. They just updated their camera equipment in 2020 and you can subscribe to their YouTube channel Carolina Webcam Streaming.
Top-rated best-selling fishing gear
Best location fishing from land – Sunset Beach Pier (no license needed)
If you're new to fishing or vacationing in Sunset Beach and not an avid fisher, a great place to start out fishing is on the Sunset Beach Pier. It has everything you could want or need in a day of fishing, and you don't even need a license.
Located at the center of the island, they're at the heart of fishing on Sunset Beach. Not only do they have the tackle shop for all your fishing fees, gear, and accessories, but they also have contests to win free fishing and parking passes. You can choose different fishing and access fee pricing per your needs and even rent gear if you're not ready to buy. They offer a variety of live bait to choose from as well.
If you're hungry you can always stop by their bar and grill that features a variety of food and drinks even the seagulls love. You can check out their menu on their website and listen to your stomach growl while your mouth waters over all the delicious items they offer!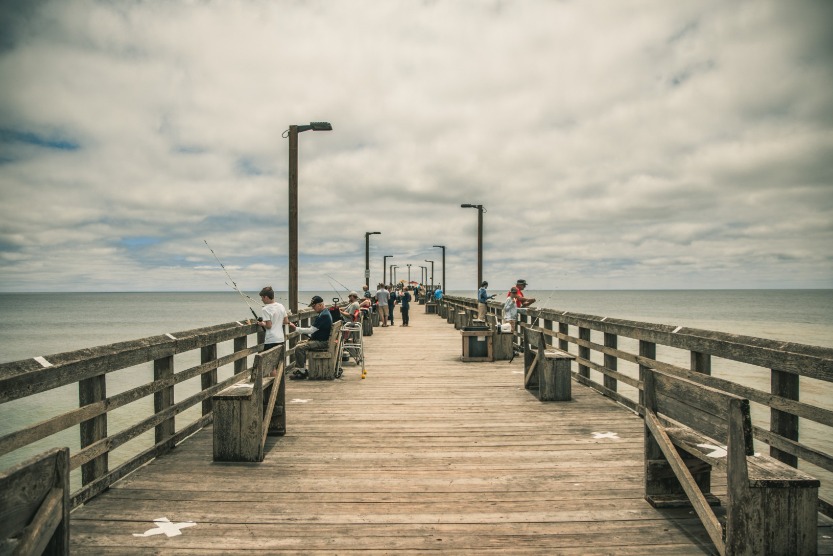 Where to get a license for other locations
If you're looking for a different kind of fishing experience, there are other places to fish on the island, but you will need to first make sure you have a license.
If you'd like to see the pricing structure you can view it on this fishing licenses page. Don't forget to also make sure you understand the fishing regulations so you don't get fined.
To purchase a fishing license, find other relevant information, or answer any questions you may have, you can visit License Information on the North Carolina Fishing website.
There are so many places you can fish in North Carolina it makes more sense to point you in the right direction and let you be on with it! The North Carolina Wildlife website has a great page for just that reason. You can see interactive fishing access maps to help guide you to the best locations you want to visit. And if the maps seem confusing, there is a video linked at the bottom of the page that will help you figure it out.
Where to Go for charters, kayaks, or jet skis
Maybe you're looking for something deep sea on your Fall fishing adventures! If you'd like to go further out, you can go on fishing charters in groups, rent a boat, kayak, or even a jet ski.
Check out our other page to see fishing and jet ski rental information.
Sunset Beach is literally teeming with options to fish anywhere around the island whether freshwater or saltwater.
Fish responsibly
Recover your hooks and line and dispose of them properly to prevent other species from being entangled with them. Many birds and animals often become entangled in fishing line, nets, and even hooks that can cause eventual death and cause major havoc in an ecosystem.
According to the National Park Service website, there are many ways you can make your fishing adventure fun while also being responsible and safe. Please read more on their Responsible Fishing page to understand how to preserve the land and species, while keeping yourself safe, so you and others can continue to return to these same fantastic nature spots.
Please dispose of any unwanted fishing bait and gear in garbage receptacles or recycle when appropriate. Please also teach your kids the value of keeping ecosystems in pristine conditions and why it is important to future generations.
We hope you learned some awesome tips to help your fishing experiences be the best this Fall season. If you have any questions about Sunset Beach vacations, we'd love to help answer them. Please feel free to contact us or visit our vacation rental pages for more information.
Contact Sunset Vacations.
401 South Sunset Blvd.
Sunset Beach, NC 28468
1-800-331-6428 (Reservations Only)
(910) 579-9000
E-mail: [email protected]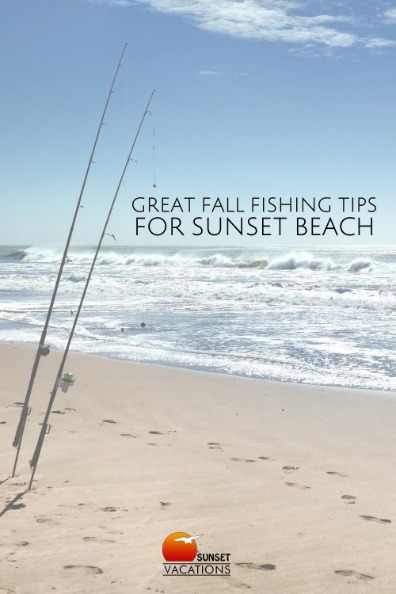 Comment on this post!