---
9 Gratitude Quotes for Joy and Happiness
Posted On Monday, November 14, 2022
---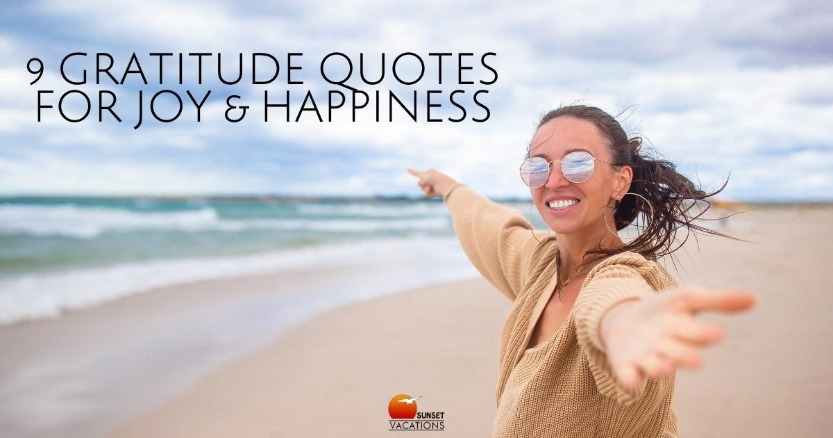 Amazing Gratitude Quotes for Thanksgiving
With Thanksgiving next week, many people are thinking more about the things they're grateful for in life. Gratitude helps soften our hearts and minds, which leads to more joy and happiness in life.
If you research the science behind gratitude, you know that being thankful in genuine ways, produces hormones in our bodies that further promote good feelings, peacefulness, and compassion for ourselves and others. Gratitude is a powerful thing to practice!
If you're looking to take a holiday vacation to the beach, please see our featured properties. We have so many beautiful locations for you to stay in and would love to help you create a memorable getaway for you and your family.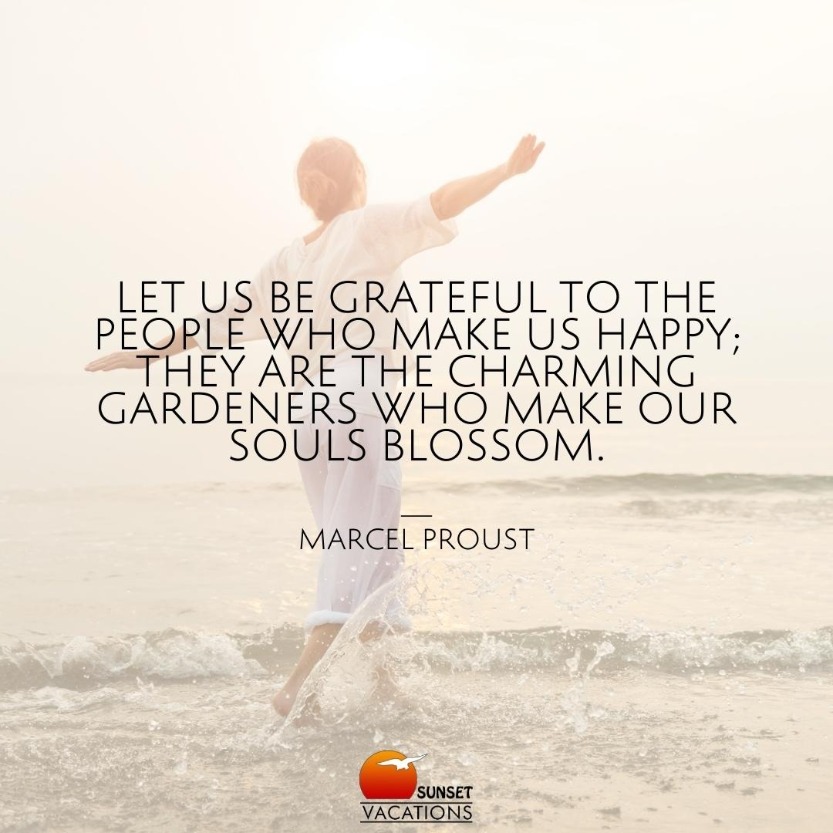 "Let us be grateful to the people who make us happy; they are the charming gardeners who make our souls blossom."
― Marcel Proust
Being grateful for those in our lives inspires us to create deeper bonds with each other. When we feel that gratitude attitude the whole world lights up with beauty and brings us closer together.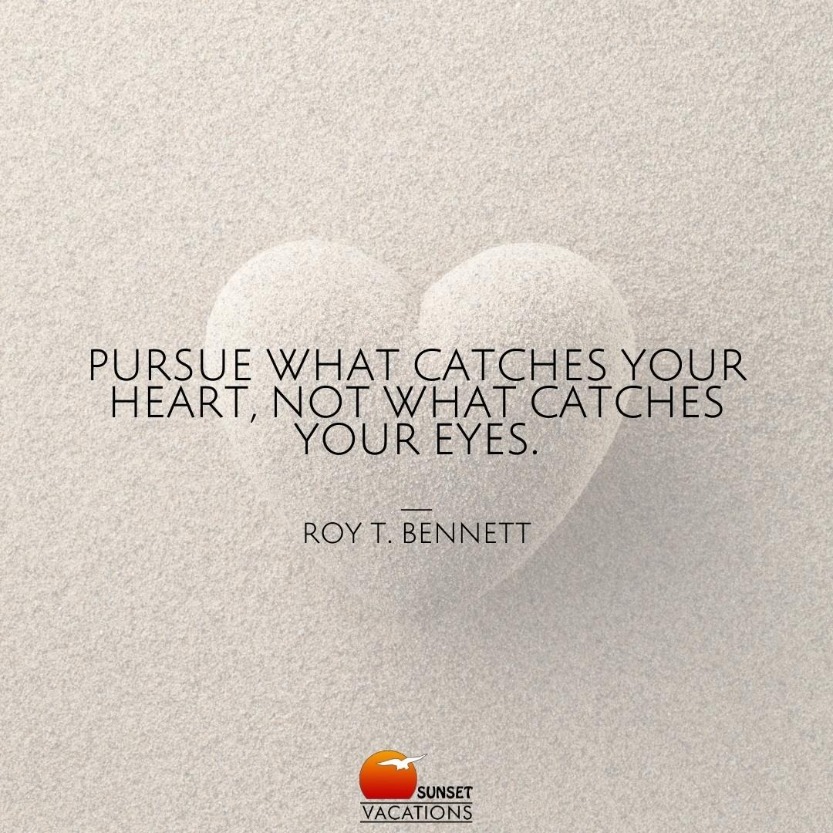 "Pursue what catches your heart, not what catches your eyes."
― Roy T. Bennett, The Light in the Heart
When we follow what is true to our hearts instead of our eyes, we are more fulfilled in life. Much of society tries to do it the other way around and ends up feeling empty. We can easily switch that around just by focusing more on our hearts.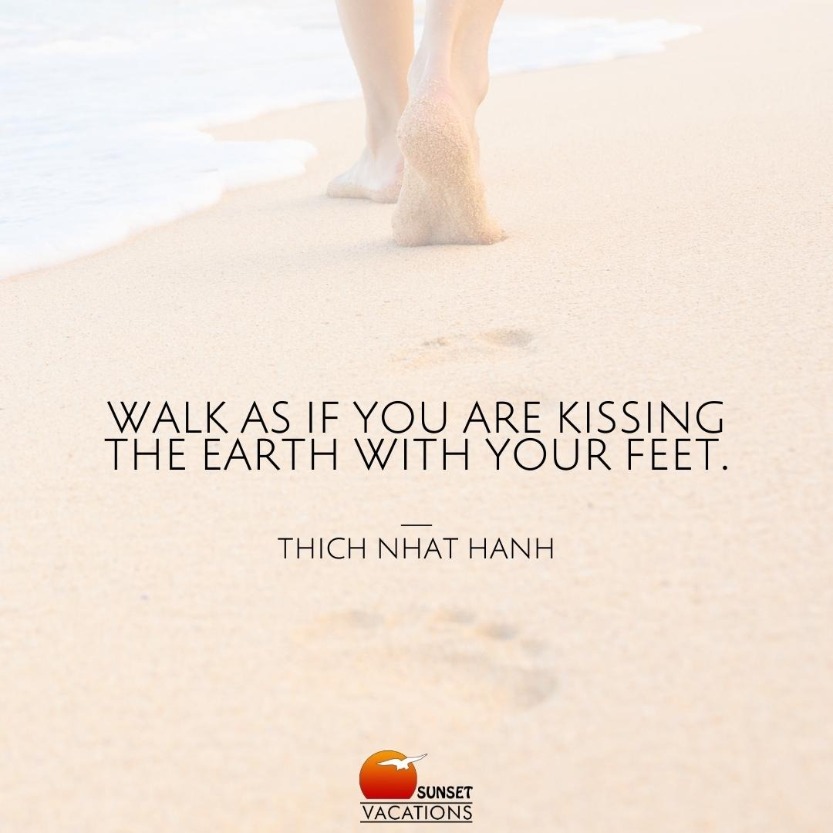 "Walk as if you are kissing the Earth with your feet."
― Thich Nhat Hanh, Peace Is Every Step: The Path of Mindfulness in Everyday Life
When we give kisses and affection, we pay attention to who we are kissing and sharing our love. In the same way, we can be present with the natural world around us and feel a similar kind of love.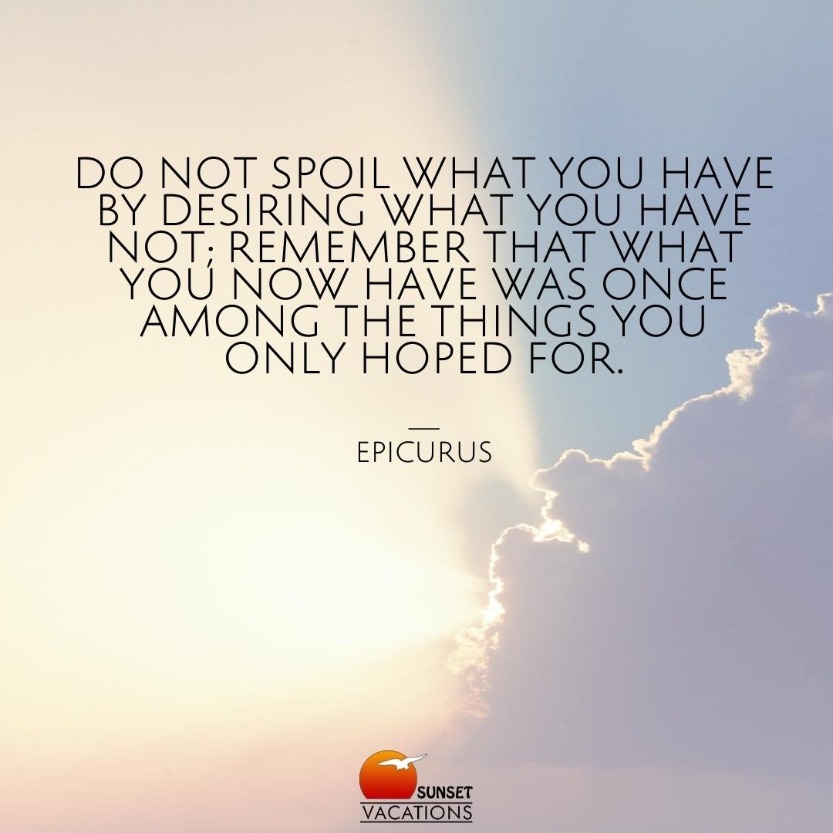 "Do not spoil what you have by desiring what you have not;
remember that what you now have was once among the things you only hoped for."
― Epicurus
When we learn to be happy with what we have and not want for more, we find peace and fulfillment in life. When we give into desire, that hunger can become a void that never fills. Gratitude fills us up.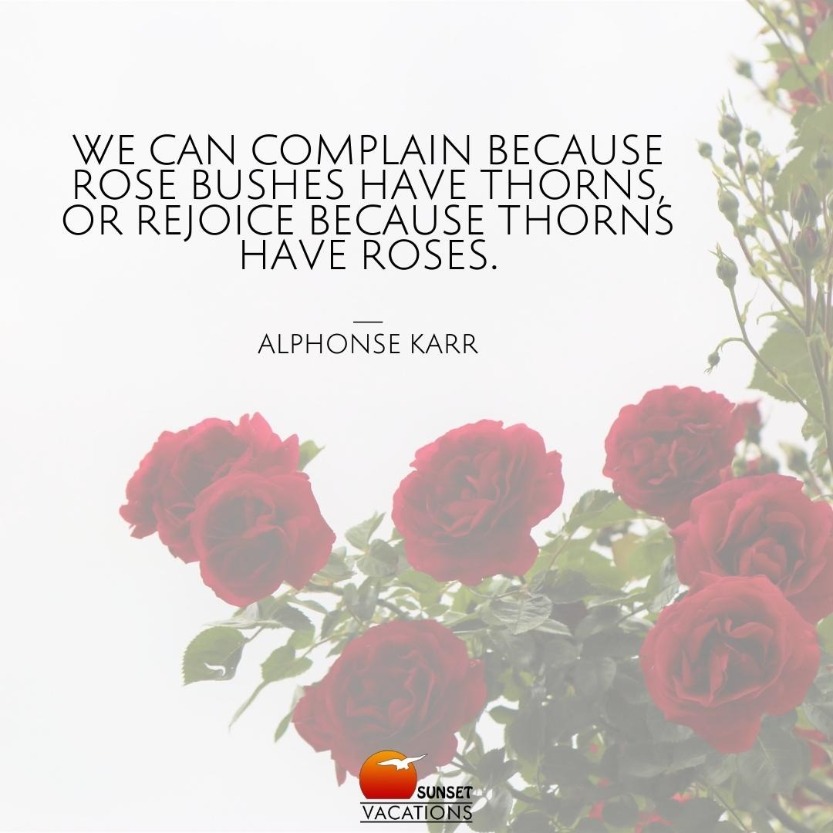 "We can complain because rose bushes have thorns, or rejoice because thorns have roses."
― Alphonse Karr, A Tour Round My Garden
Like the glass is half full or half empty, choosing optimism makes life easier to bear because it changes our focus to look for what is good in life. This practice leads us to helpful solutions to make our situations better.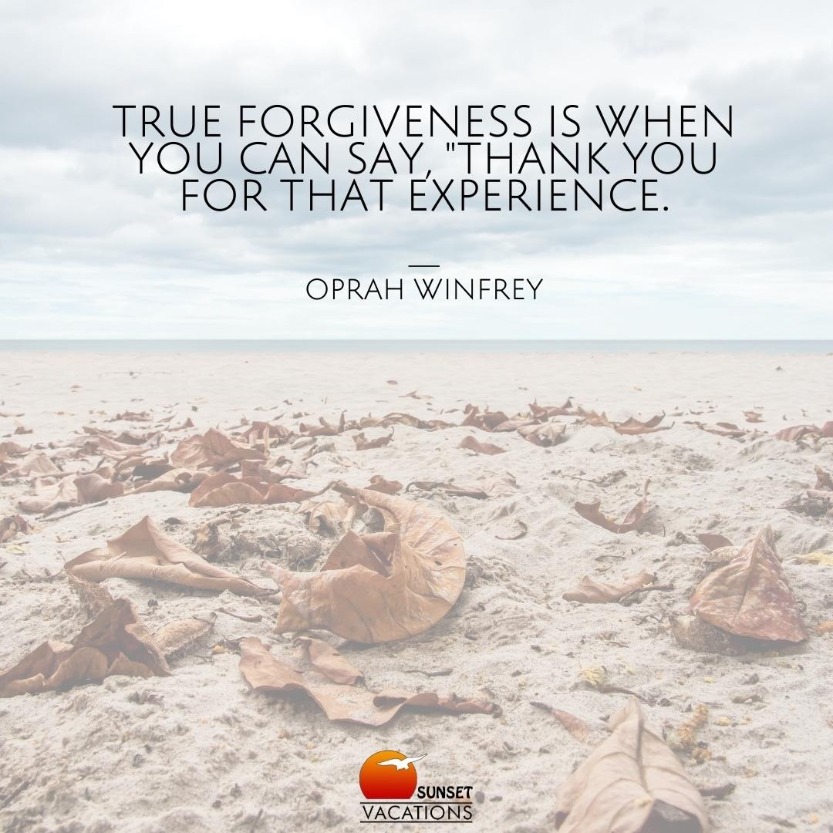 "True forgiveness is when you can say, "Thank you for that experience."
― Oprah Winfrey
Forgiveness can be incredibly hard to do especially depending on the person and situation, but forgiveness is never for the person who hurt us. Forgiveness is telling ourselves it's finally okay to take the lesson from the situation and move forward in life to live as best we can despite what happened. If we are ready, we can be grateful and free.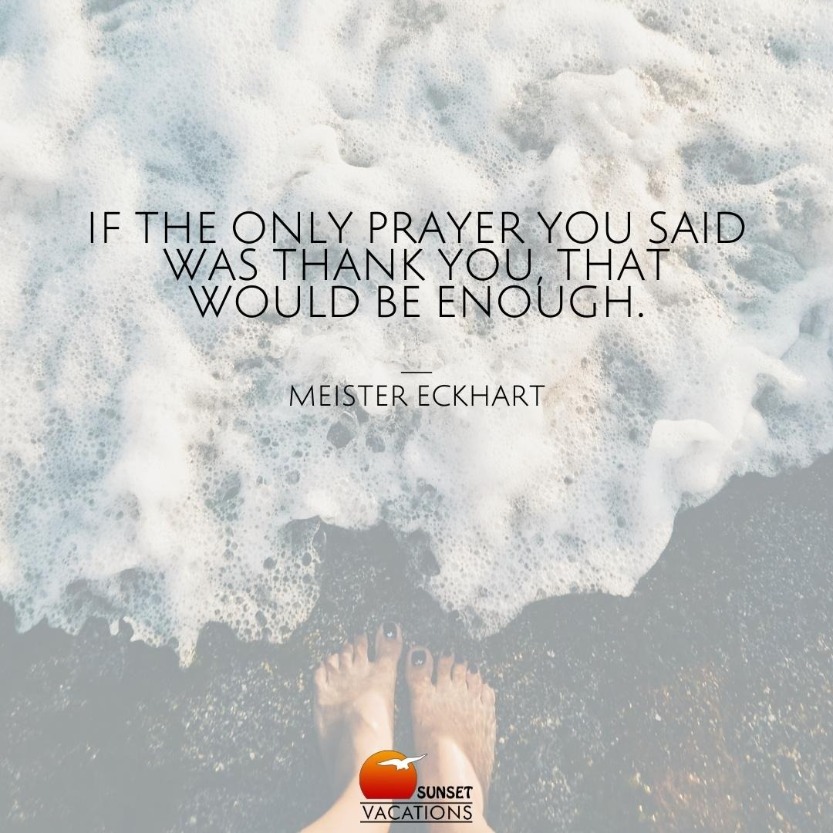 "If the only prayer you said was thank you, that would be enough."
― Meister Eckhart
It's amazing how simple and earnest life can be when we just get down to the basics. We can be fulfilled and full of life just by holding a "thank you" in our hearts.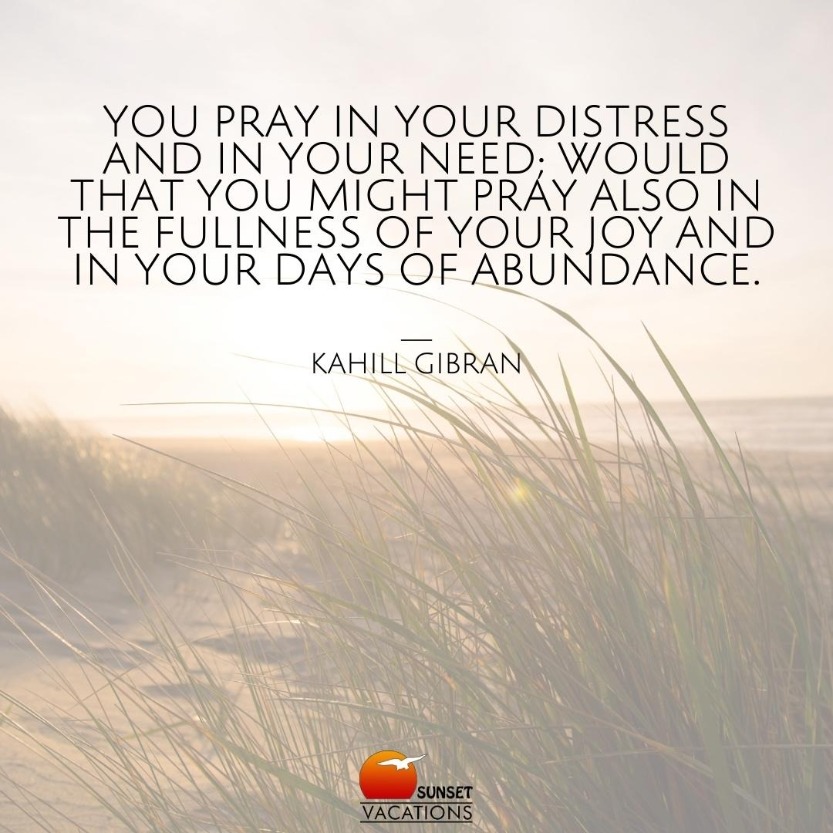 "You pray in your distress and in your need; would that you might pray also in the fullness of your joy and in your days of abundance."
― Kahlil Gibran, The Prophet
If we can master gratitude no matter what is happening, we become child-like again and it cushions all the tough blows in life. But it keeps the wonder and awe in the good times too. Gratitude is the basis of what makes life magical.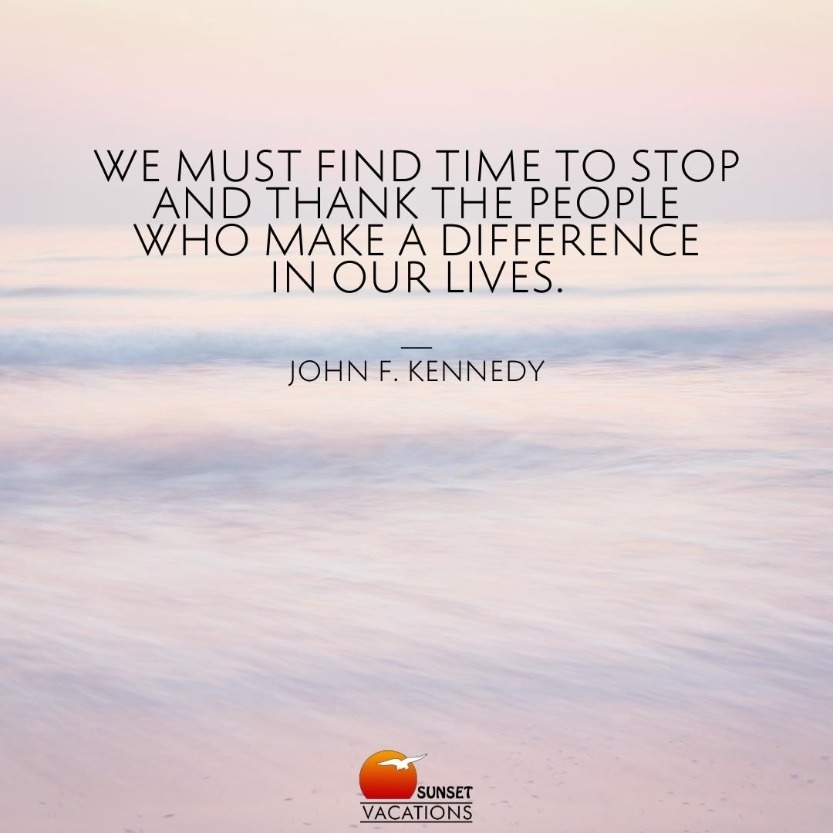 "We must find time to stop and thank the people who make a difference in our lives."
― John F. Kennedy
This holiday is the perfect time to tell our loved ones how much they mean to us. Even if they're not here, we can still think of them or even write them a little letter in our hearts. Being thankful can heal many things in life and give great celebration too. It's such a powerful attitude to have and surely why our country made a huge holiday out of it.
We hope you and your family have a wonderful holiday. If you need a great place to stay and celebrate, we have many rental properties for the perfect beach getaway. Let us know if you need any help planning or booking and we'd be happy to help you! Reach out to us on our contact page any time you have a question.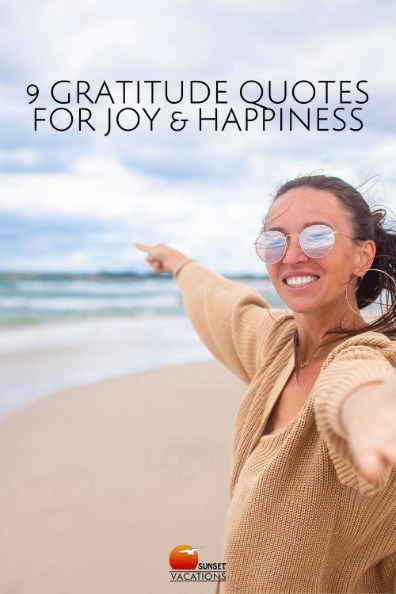 Would you like more quotes to inspire you?
Read inspiring quotes that will make you happy!
Comment on this post!